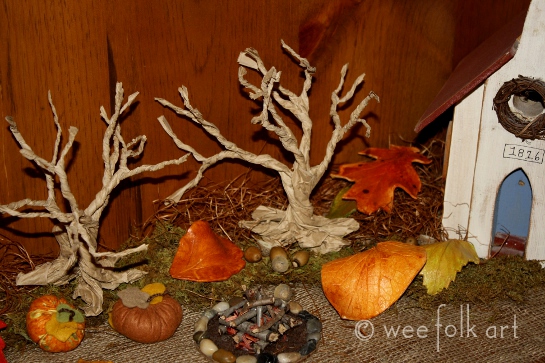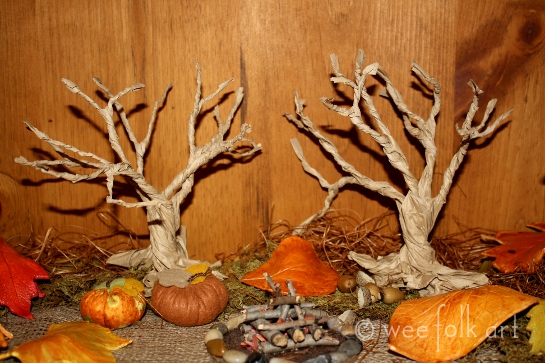 The other night at the Pumpkin Carving Party, my SIL Jennifer, was telling me about these paper bag trees she made with her Brownies. I must have looked like I was lost in the muck and mire because she finally said, "Geeze… just get me a paper bag and I can show you in 5 minutes." Well, she was true to her word. In a matter of minutes not only did she make a gnarly looking paper bag tree, but I felt confident that I could make one, too.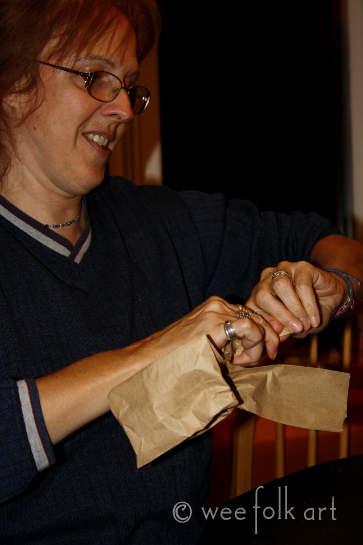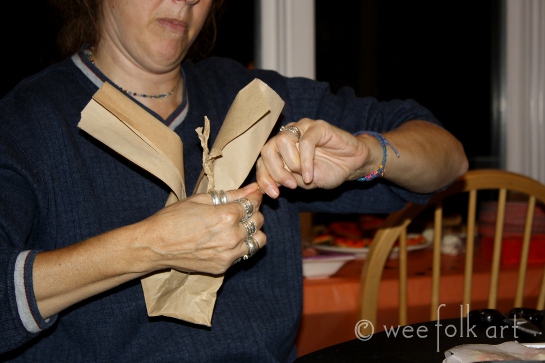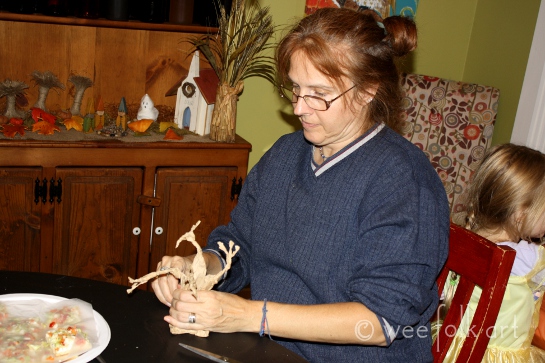 I sat down tonight to try to make one. Sure enough, in a matter of minutes, I made a tree. Out popped the camera, and easy peasy… a tutorial. I love it when things are this easy, although it would be a lot easier if all of you were sitting around my dining room table. We'd have a forest in a matter of minutes!
Basically, you can't make these wrong, and it is a craft you can do with children. So, go grab a few brown paper bags and pair of scissors, and you'll be making trees in no time. BTW… for the observant… you'll notice some blood smudges on the trunks and branches. Took a little nip out of my thumb 🙁 But I didn't let a little cut stop me, trooper that I am 😉 Ready? Here we go!
Measure up 4″ from the bottom of the bag.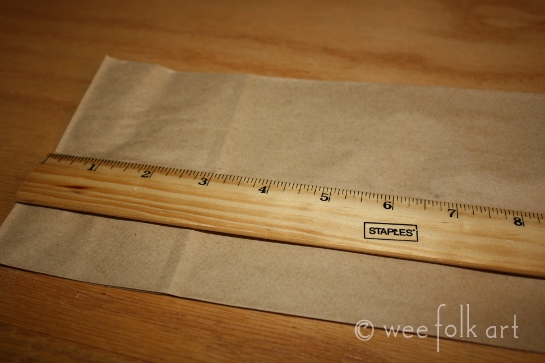 Cut down the center of the 4 sides of the bag to the 4″ mark.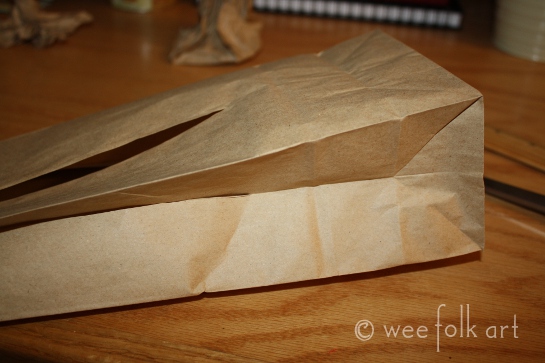 Twist the bag, then untwist.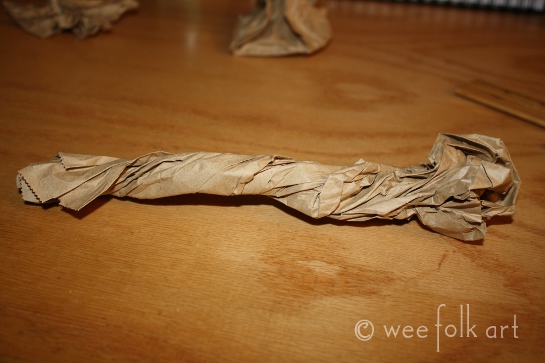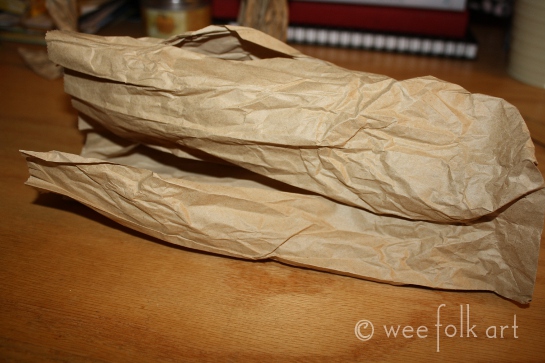 Twist the trunk up 4″ to the cut.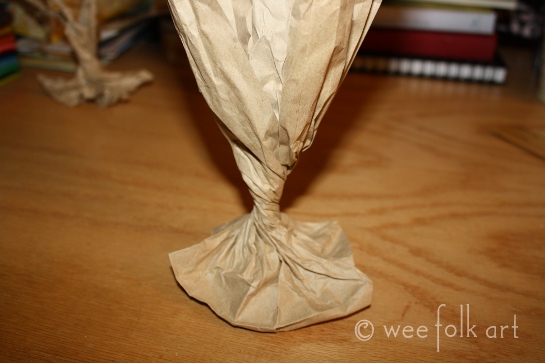 Each of the four sections will become a major branch of the tree.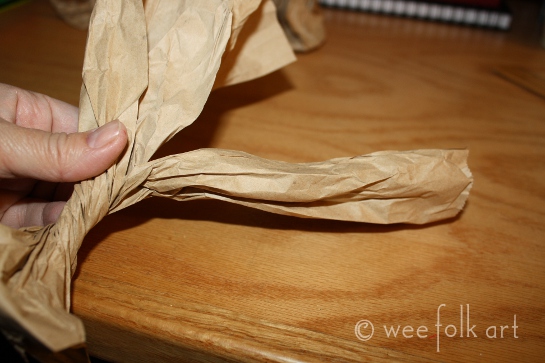 Twist the first branch about halfway up.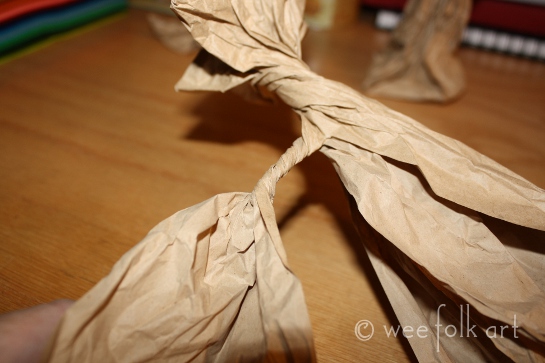 Then, cut lengthwise down the bag to where the branch is twisted. You can make 1 or 2 cuts making 2 or 3 sections.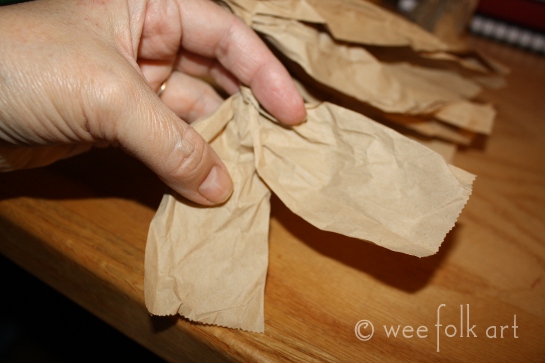 Twist each section. You can twist all the way up, or go halfway and make another cut. Continue cutting and twisting until all pieces of the 1st branch are all twisted.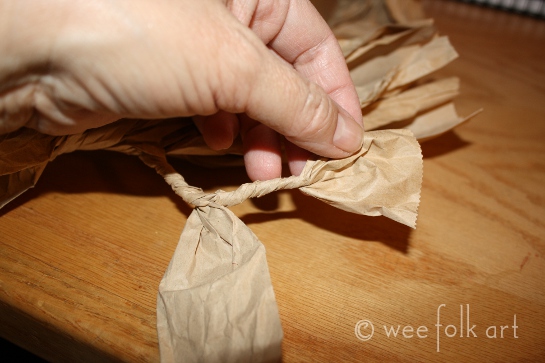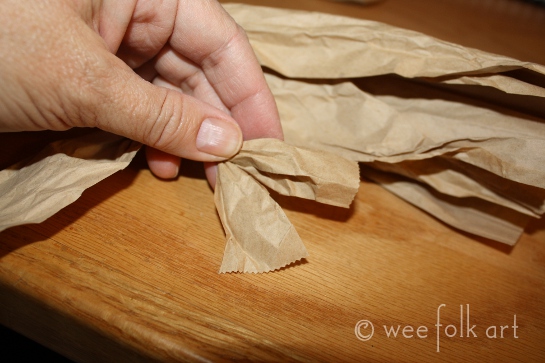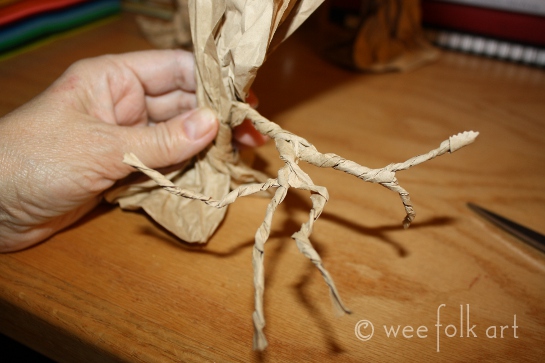 Do the same for the other 3 branches. Make each one slightly different.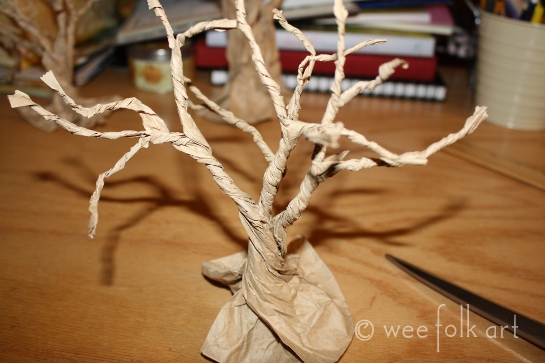 Make 4 or 5 snips at the bottom of the tree. Twist each section to create roots.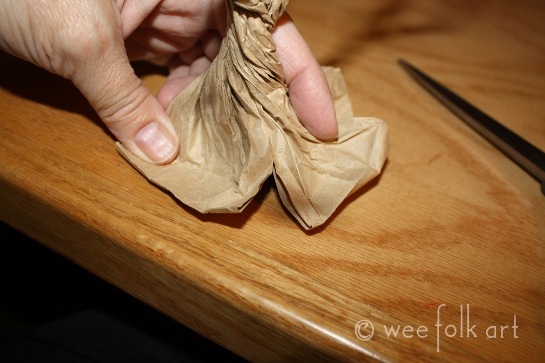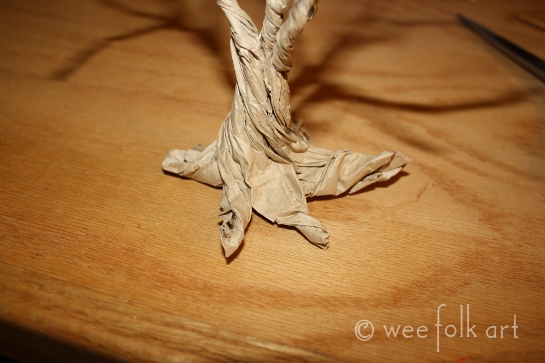 That's it. You can dink with the branches a bit until you are satisfied with the way they look. Then, tah dah… you are done and ready to make another. Now wasn't that the fastest and neatest craft you ever made? Thank you, Jenny, for teaching me this fun technique!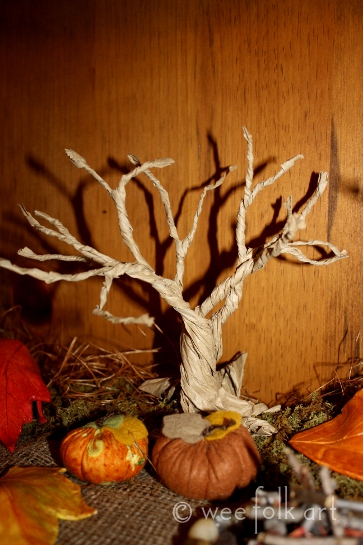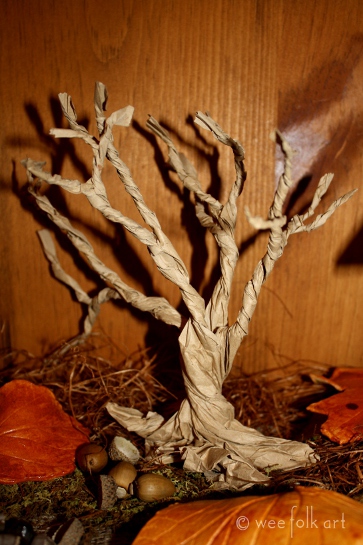 Links to the other Wee Folk Art crafts pictured in these photos:
Paper Clay Leaves can be found
HERE
.
Mini Pumpkins can be found
HERE
.
Campfire can be found
HERE
.
https://www.weefolkart.com
Copyright © Wee Folk Art 2008 – 2009. All rights reserved.
All photos, text and patterns are copyright protected. You may not copy, reproduce or redistribute any material found on WeeFolkArt.com without written permission. Wee Folk Art retains all rights.