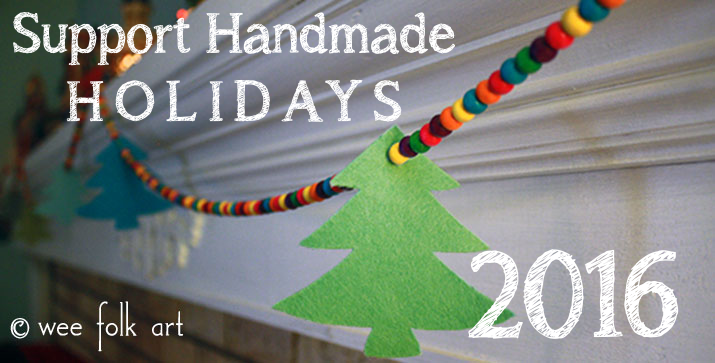 Those of you who have been with us over the years will remember that we have encouraged our readers to support small business during the holiday season by creating a SUPPORT HANDMADE holiday page. We did not do it last year because it is a very time intensive project for us to answer emails, crop photos, and add businesses to the page. This year I have found a way to automate the process so that everyone can participate without me having to manually update the site. Yay!
What is Support Handmade?
Our Support Handmade page encourages readers to shop with small, handmade businesses. We believe that handmade products both nourish the maker and the receiver. Our Support Handmade program has been designed to help our readers connect with shops that offer handmade items. We also accept listings for shops that sell patterns and crafting supplies so our readers can create their own handmade gifts.
How to Participate in Support Handmade?
First of all, you will need a 150 x 150 square button for your listing. It can include text with your shop name, sale event, or coupon. Your button can also just be a photo of a product or your logo. You are responsible for creating your own button.
If you would like to join our Support Handmade program you have two options: link share or stipend.
If you have a blog, website, or shop pages that allows you to add a text link or button you can participate in the Support Handmade program for FREE simply by letting all of your readers know that you too SUPPORT HANDMADE. To participate in our link share you will need to add a text link or one of our Support Handmade buttons (available on our Support Handmade page) to that page that you would like our readers to visit. The link must point directly to our Support Handmade page and not the WeeFolkArt home page. Our computer program will check the page you add to your listing for the link before it will allow you to add your listing. By letting others know that you Support Handmade you will help create a stronger page and community for everyone participating in the program.
If you cannot add links to your page or if you would just prefer not to, you can join the program with a small monthly stipend of $5. If you choose to enroll by stipend you can either pay a one time fee or enroll in the subscription program which will automatically update your account each month. The stipend cost is low because we know that small businesses have small budgets. We want to make sure that everyone who would like to participate has the opportunity.
Who can join?
If you have a small business that either sells handmade products and gifts or crafting supplies and patterns you are eligible to participate. We do have to manually approve all listings and will take down any listing that is not in keeping with the spirit of Support Handmade. All participants must run a family friendly site. We will ban any user who posts negative comments, indecent photos, or inappropriate material on our site or on the site included in the listing. We reserve the right to refuse or remove any listing for any reason.
Handmade Holidays 2016
During the months of November and December we will actively be directing traffic to our Support Handmade page. We will include a Handmade Holiday button on our homepage and will have a pop-up with that appears periodically on our site letting our readers know about the program. We will also mention the program occasionally on our social media pages.
If you have any questions, please leave a comment below.