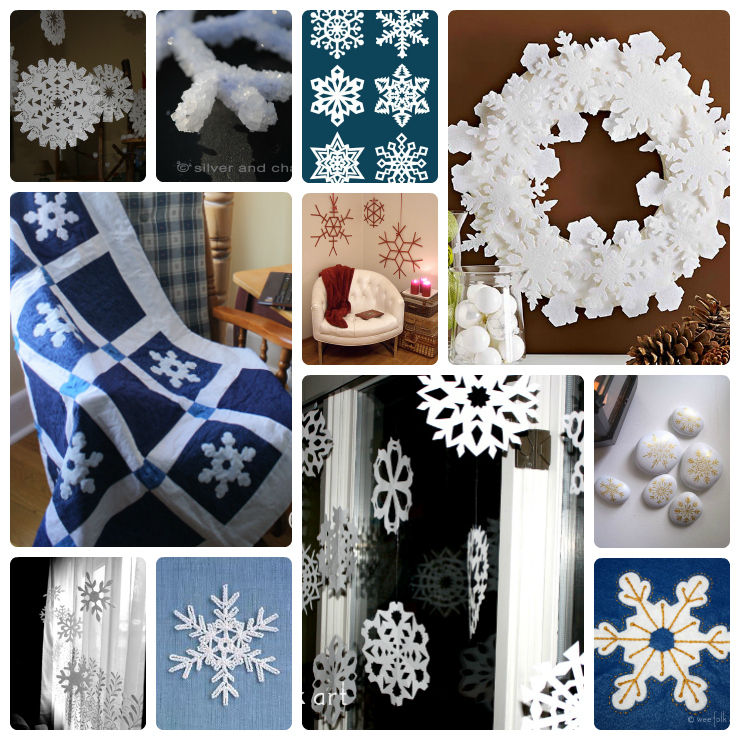 Tucking away all my holiday decorations is always a bittersweet experience. On one hand I'm ready to return my house, and my life, to some semblance of order after the chaos of the season, but on the other hand my house can feel so drab after the colorful decorations are stowed away for next year. My way of dealing with it is the leave out and bring out winter decorations to bridge the gap to spring. Although my winter decorating is more diminutive than what I do for Christmas, and the color scheme is subdued, it still makes my house feel festive and helps celebrate this season of hibernation and intimate gatherings. My winter house always plays host a flurry of snowflakes. Below are a number of free snowflake craft projects to help you celebrate this beautiful, but often unsung season!
---
Although these rocks are sold as a kit to make, you can easily collect your own rocks, spray white, and using a gold metallic pen draw snowflakes on the rocks. If you do not have a ready supply of rocks you can always purchase the kit. (It is a Czech so I'm not sure how available the shop is.)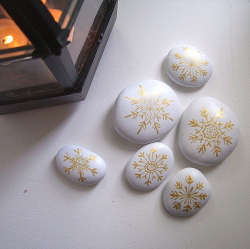 ---
Looking for ideas of what to do with snowflakes other than hanging them here and there? Then visit BHG for this free tutorial for making a felt snowflake wreath. You will need to register at BHG to download the patterns.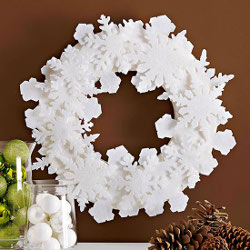 ---
Visit Martha Stewart for 4 crocheted snowflake patterns. I think I really like these because they are a bit more delicate than many of the others that are out there.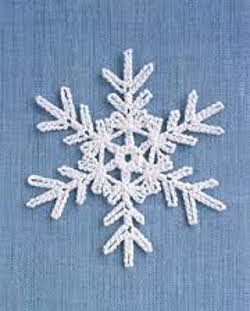 ---
A 6″ applique that can be enlarged or reduced to meet your needs. Embroider with metallic thread and they will glisten.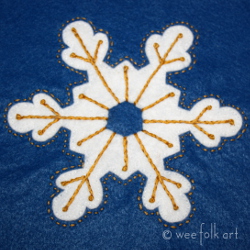 ---
Turn the above snowflake applique into a stencil and you can be cozy this winter snuggled under this lap size stenciled snowflake quilt.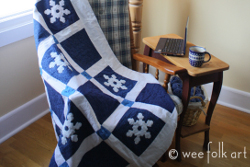 ---
Let the lacy designs of doilies give your snowflakes an even lacier look. These were cut from doilies and laminated and have been used by our family for over 20 years and look as lovely as the first year they were made.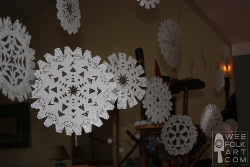 ---
Even if Mother Nature hasn't blanketed  you in fluffy snow, there is no reason you can't create a winter wonderland inside! Simple paper snowflakes can grace your windows and doorways, bringing the beauty of winter indoors!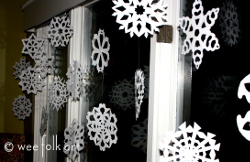 ---
Even though most of us learned how to cut out snowflakes in elementary school… (remember the erroneous 8 pointed snowflakes cut out of construction paper using kiddie scissors… my fingers hurt just thinking about it!) if you need some help coming up with some new snowflake designs, take heart… the internet is overflowing with snowflake patterns to get you started. Just do a google search using the words "snowflake patterns" and you'll create an indoor blizzard in no time!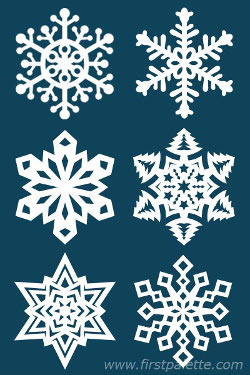 ---
I can remember as a child watching the magic of the creation of crystals using Borax. We did this as a science experiment but the results are beautiful enough to use as decorations.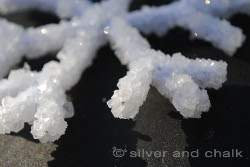 ---
Using inexpensive crafting felt, the delicious kind covered in sparkles, you can make shimmering snowflakes that will last for years!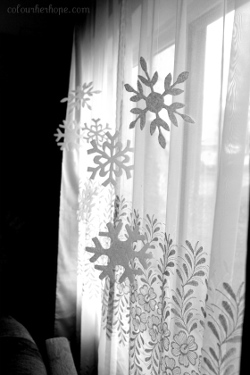 ---
Using nothing more than a handful of craft sticks… aka Popsicle sticks… a hot glue gun and your imagination, you can create impressive snowflakes fit for a giant! This looks like so much fun to do! And the results are impressive.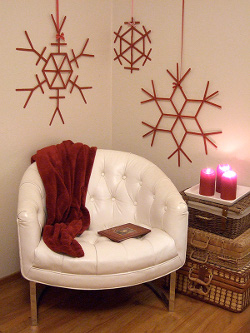 ---