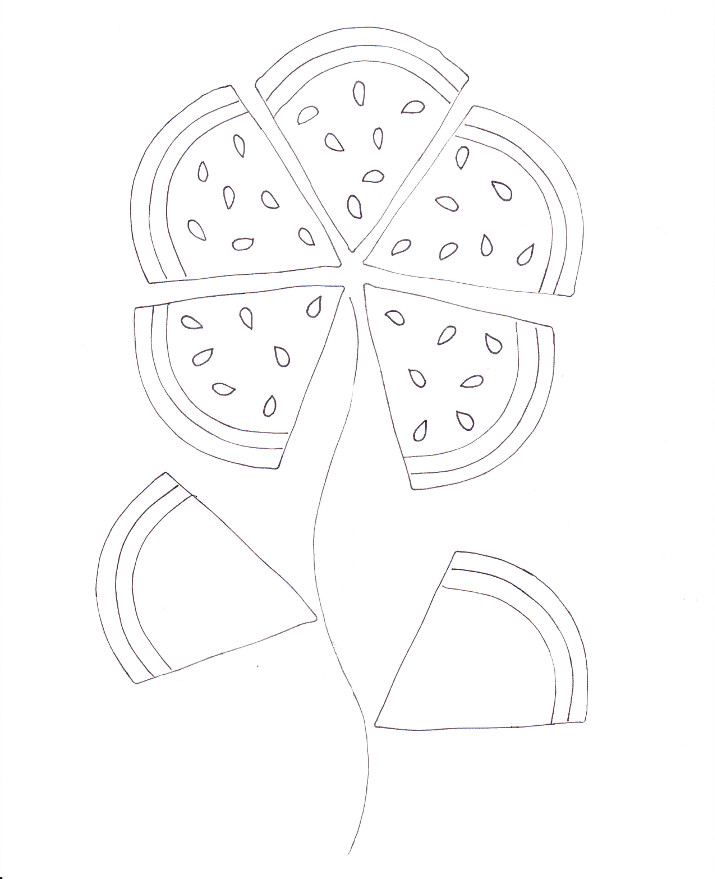 In a rather Willy Wonka-ish manner, I turned the basic pattern of our Watermelon Applique Block into a fantasy Watermelon Flower! Here is our newest coloring page. After I watercolored the page, I went back and added some detail… just 'cuz.
Pattern for Watermelon Flower Coloring Page can be found HERE.
Watermelon Applique Block can be found HERE.
A VERY basic watercoloring for your Coloring Pages tutorial can be found HERE.
Today, I had company as I quickly painted my Watermelon Flower. A little too quickly, I'm afraid. Being distracted by the wee ones, my seeds ran and it was quite messy, but it is just a coloring page and we all had fun non-the-less! Little Lady and Little Guy each picked out a coloring page. Little Lady chose the Log Cabin Coloring Page and Little Guy picked the Inch Worm Coloring Page.
Little Lady began with her coloring page, but did 3 more watercolors with her own designs. She took her work quite seriously.
Little Guy, on the other hand, spent more time painting himself than his page. This points to the necessity of using non-toxic paints with wee ones 🙂
We all had a great time! Just a note about paints. My very favorite watercolors are Pelikan 24 Color Opaque Watercolor Set. They currently sell at Amazon for $18.21. I love the assortment of colors and how large the blocks of color are. I use these paints most of the time.
However, these watercolors, the ones I used today, are Crayola Washable Watercolors, 16 count and sell for $3.99. The colors are beautiful and apply easily to the paper. I am quite happy using the Crayola Watercolors and if money is an issue, this just points out that you don't have to use the most expensive supplies to get beautiful results. Just saying 😉