I remember doing copper relief pieces when I was in elementary school. Even then, I remember how thrilled I was to be working with "authentic" materials. When I was finished, I felt like I created something special. I was delighted that the kids shared my enthusiasm. We did this project as part of of US States Study. Many of our Western State states mine copper, so this seemed like a perfect opportunity to share this technique. Although the girls really enjoyed working with the copper, Bug was especially enthralled. He loves Ancient History, and sunburst he created has an Ancient Aztec feel to it. We will certainly be doing more of these!
Materials:
Sheet of copper (4-6 inch square)
Paper
Pencil
Blunt edges utensils (popsicle stick, pencil with no eraser, etc)
Magazine or newspaper
Craft Paint
Craft Glue
8in square piece of cardboard or wood for mounting
Optional Aging Materials: Nail Polish Remover, Glass Cleaner, Vinegar, Ammonia, Salt, Plastic Bag, Gloves, Steel Wool, Cotton Balls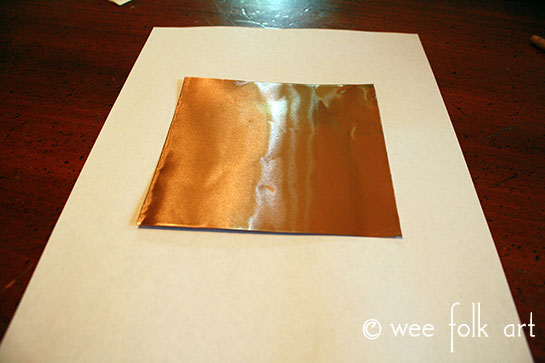 Start by folding a sheet of paper around your sheet of copper. This will create an outline of your copper sheet on the paper and will allow you to line up your design perfect when it is time to trace.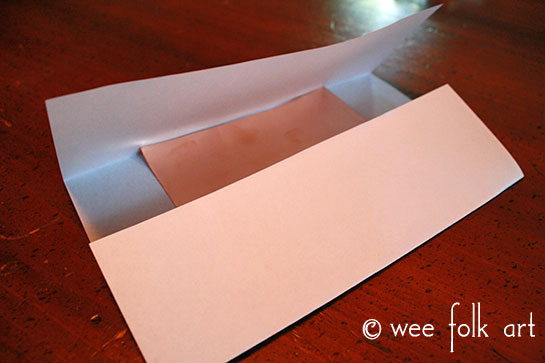 Unwrap your sheet of copper and set it aside. Design your artwork by drawing in the center square created by the folds.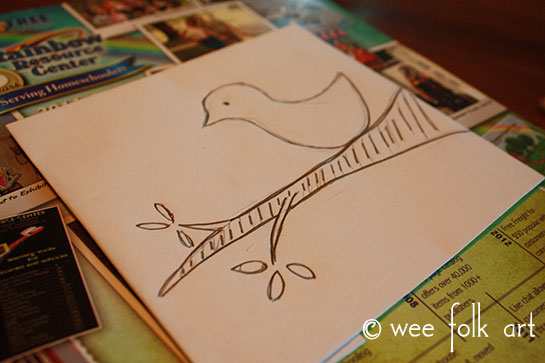 When you are happy with your design, re-fold the paper around your sheet of copper. Place it on a soft writing surface, such as a magazine or newspaper, and trace your design onto the metal. Apply pressure so you dent the copper.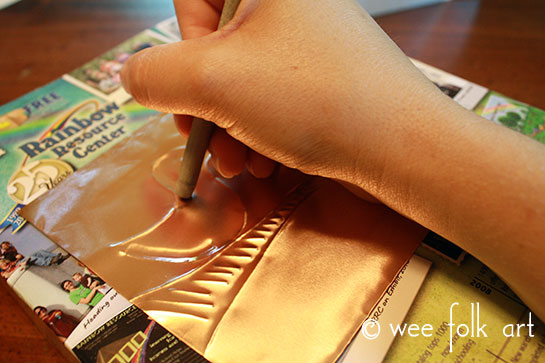 Remove the paper and flip your copper sheet upside down on your soft work surface. Use blunt objects to push out your design elements.
You can flip your copper back over and use a pointy tool to add detail. A mechanical pencil with the lead retracted worked well for this step.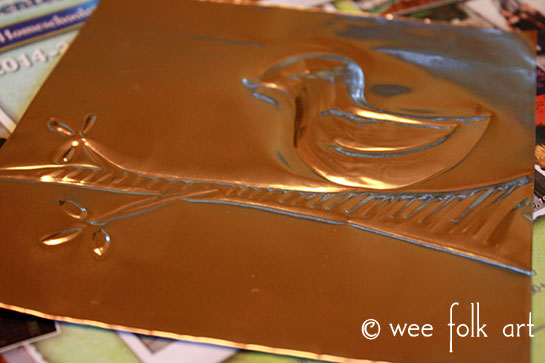 When your design is done you can age your copper if you would like it to have that rustic patina. We followed the copper aging directions we found on Art Instinct available here. If you would rather not work with household chemicals, alternatively you can cover your copper with black paint and rub away paint from the raised surfaces using steel wool to create a faux aged patina.
While your copper is aging you can paint your mounting surface. We used 8″ squares cut from a shipping box, but wood would be a great alternative, especially if you would like to hang your finished piece up outside.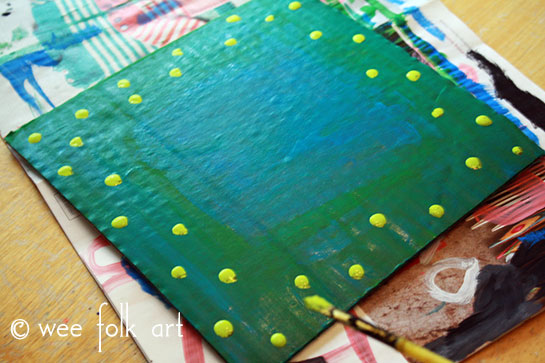 Use craft glue to mount your finished copper relief in the center of your mounting surface. If you used wood and plan to hang your piece up outside, you might want to use small tacks in the corners to help hold it together in the elements outside.