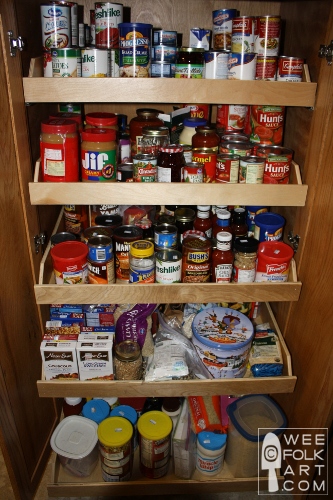 For dinner this past Sunday I made Chicken Enchiladas, Spanish Rice, Cornbread Casserole, and Guacamole. It is one of my family's favorites. It reminded of a post I had written for One Generation to Another, March 25, 2008. Given the fact that I'm still under the weather (but feeling much better, and I attribute my quick recovery to every one's well wishes… thank you very much 🙂 I thought it would be a good day to do a little recycling. Hope you enjoy!
Everyone has little things they do that give them a sense of security. Maybe it's a secret stash of chocolate or $40.00 "mad money" tucked away in a secret compartment of your wallet or an obnoxiously noisy alarm clock inconveniently located across the room. In college I had a friend that always kept a "back up" boyfriend. There is no universal "security blanket", but rather individual needs that may appear trite to someone else, but help us breathe a little easier.
Being the wild and zany individual that I am…I find solace in a well stocked pantry! I'm not talking about having 2 cans of mushroom soup, but rather 12. There are also chick peas and mandarin oranges, water chestnuts and canned salmon. You just never know! Although this may seem excessive to some people, if I see a recipe that calls for crushed pineapple…I've got it. Green chilies? I say chopped, whole or frozen? Avocados…of course! Come on, give me something hard! Tarragon, cumin, sage? Yep. Yep. Yep. Rye flour, barley, wild rice…long or short? Fresh carrots, onions, celery, peppers, chives…in the drawer in the refrigerator. You see what I'm saying? I didn't need to do any special planning when Y2K rolled around…if the world market had collapsed and chaos ensued, I could have feed a family of 16 for four or five months without blinking an eye! I require a well stocked pantry…it's an obsession…what a shocker!
My children often tease me about it. HOWEVER, they can come over and say,
"You know what sounds good, Mom? Chicken Enchiladas."
"No problem", I say.
"MMMM, apple crisp sounds yummy, too"
"Okay, start peeling apples."
No one needs to make a grocery run…you just have to forage in the kitchen. (BTW…they, meaning our teasing children, are not above pinching a jar of this or a can of that on the way out the door…saving themselves a trip to the store! "Thank you, Mom".)
I'm not sure what prompted this compulsion. It's not like we were deprived of food as children or ever went hungry. As newlyweds we weren't impoverished, living on Ramen Noodles and PB&J sandwiches. And it's not like I was Scarlet O'Hara, rooting through an abandoned garden, looking for a rouge potato, swearing, "As God is my witness, I'll never be hungry again!" I think the explanation is much simpler…I like to cook and I like to feed people. OMG…I'm like Remy the rat in "Ratatouille"!
I may be a bit over the top…or more to the point…over the cupboards (where "backups" are stacked to the ceiling) when it comes to supplies but in part, that is because I have the room. I've had much smaller kitchens, with no back up fridge and freezer, so I couldn't keep all the supplies I have on hand today. But I find it very interesting, when you talk to other people, what they think falls under the heading of "must have" staples. For instance, I could live without garlic powder, since I have fresh garlic on hand, but my kitchen must have dried basil, parsley and bay leaves. I could do without my jar of spaghetti sauce, but don't take away my stewed tomatoes and tomato sauce. You can take the margarine, but I'll keep the olive oil. I could survive with less, I've done it before, but I'm delighted I don't have to.
Where you are in your life and how much time you have to spend in the kitchen, has a tremendous impact on what you'll find stowed away in your cupboards and fridge, and what you consider "essential". I might be aghast to find out someone does not own fresh celery, yet they might find it down right disconcerting to know I have almost no prepared foods. So, there you have it…I'm like a squirrel burying nuts in my kitchen on the off chance there will be a hard winter! Rational behavior…I think so. Do others agree? They don't have to! And, no one seems to complain when I'm able to make their favorite meal at a moment's notice!
CHICKEN ENCHILADAS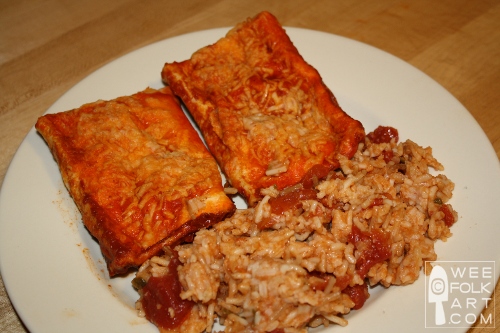 The first time my brother tasted these I had brought them to a family gathering. After he had taken a bite he asked me, "Did you pick these up at a restaurant?" "No", I replied, "Why do you ask?" "Well, they're so good. They taste like something you'd get at a Mexican restaurant." I couldn't decide if I had just been complimented or insulted! Anyway, they are extremely delicious, and given the flavor, well worth the effort!
Ingredients
1 can (19 oz) enchilada sauce (any variety)
2 cups shredded cooked chicken (I make Chicken Soup then fish the meat out!)
1 1/2 cups shredded Monterey Jack cheese (6 oz)
1 cup sour cream
1 can (4.5 oz) chopped green chilies
1 medium onion, chopped small, and sauteed in 1 T. olive oil until translucent
1/2 package powdered taco seasoning
1 package (11.5 oz) flour tortillas for burritos (8 tortillas)
1 cup shredded cheddar cheese (4 oz)
Optional toppings: chopped avocado or guacamole, green onions, sour cream, taco sauce, chopped tomatoes, lettuce, etc.
Directions
1. Heat oven to 350°F. Spread 1/2 cup enchilada sauce over bottom of ungreased 13×9-inch (3-quart) glass baking dish. In medium bowl, stir together chicken, Monterey Jack cheese, sour cream, sauteed onions, powdered taco seasoning and chilies.
2. Spoon about 1/3 cup chicken mixture down center of each tortilla. Roll up tortillas; arrange, seam side down, in baking dish. (Note: I fold my enchiladas burrito style by bringing the 2 sides in then rolling the tortillas. This stops the yummy inside from seeping out the ends.) Top enchiladas with remaining enchilada sauce. Sprinkle with cheddar cheese. Spray sheet of foil with cooking spray; cover baking dish with foil, sprayed side down.
3. Bake 35 minutes. Remove foil; bake 5 to 10 minutes longer or until hot and cheese is melted. Serve with optional toppings.
We all have our kitchen essentials…those things that we use frequently and would be lost without. It's always interesting to hear what other people consider to be staples. Besides the normal milk, flour, butter, and egg variety staples, what do you consider to be basic and irreplaceable in your kitchen?