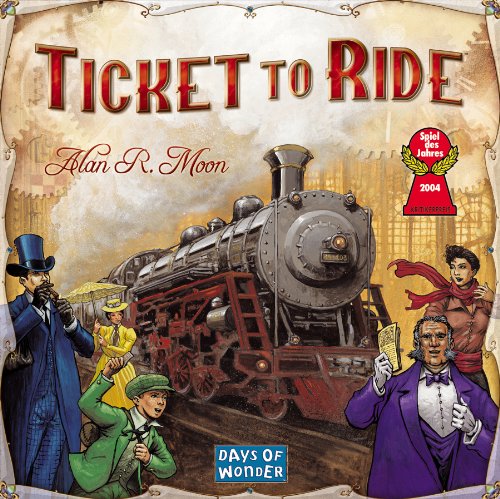 You might be surprised by some of the emails we receive. Of course, some are lovely notes thanking us for sharing on Wee Folk Art, we get many asking for suggestions on how to do crafty things or what products we like and which stores, online and off, that we shop at, and generally the type of emails you might assume we would get. However, there are some that aren't quite as typical. Over the years we've frequently been asked for book suggestions, about various activities we do with children, where we like to vacation, and even who I was voting for in the last election, YIKES! Although I try to answer all emails, sorry about the ones that slip by, if we get asked a question that I think other's will find interesting, I will often do a blog post, or more likely, address it on Facebook. But we just got this email this morning, and I thought it actually might be rather fun to answer in the form of a post. Here's the typical "non-typical" question we received:
"I love all the Waldorf toys you share but your family must do other things other than play with gnomes all day, LOL. Can you suggest some games or toys that your children play with aren't 'Waldorfian'"
It got me to thinking it might be fun over time to share some of our favorite games and toys. Obviously, each family is different, and I respect everyone's unique perspective on what is appropriate for each family and child, so if we make a suggestion, take it for what it is… simply a glimpse into OUR family, and activities we find suitable for us 🙂
So, as a first go at this, I'm going to share a game we are all obsessed with right now… Ticket to Ride. I first played Ticket to Ride at Drew and Meghan's several years ago. Some of the grandbabies are now old enough to play the game.
Here is the description from the Manufacture:
October 2, 1900 – it's 28 years to the day that noted London eccentric, Phileas Fogg accepted and then won a bet that he could travel "Around the World in 80 Days." Now, at the dawn of the century, some old friends have gathered to celebrate Fogg's impetuous and lucrative gamble – and to propose a new wager of their own. The stakes: $1 million in a winner-takes-all competition. The objective: to see the most cities in North America – in just 7 days. Ticket to Ride is a cross-country train adventure game. Players collect train cards that enable them to claim railway routes connecting cities throughout North America. The longer the routes, the more points they earn. Additional points come to those who can fulfill their Destination Tickets by connecting two distant cities, and to the player who builds the longest continuous railway. For 2 to 5 players ages 8 and older. Playing time: 30-60 minutes. Comes with: 1 Board map of North American train routes, 240 Colored Train Cars, 110 Train Car cards, 30 Destination Tickets, 5 Wooden Scoring Markers, 1 Days of Wonder Online access number, and a Rules booklet.
This has become a favorite in the house, and everyone that plays it gives it a two thumbs up. The game changes every time it is played, so you can play it over and over again. It retails for $49.00 and sells for $37.50 on Amazon. Although it isn't an inexpensive game, it is well made and should last the life of the family. They even give you 3 extra trains for each color for the inevitable lose 🙂
Although it might be pushing it a bit to call it an "educational" game, it does feature some of the larger cities in USA and Canada, and requires logical thinking.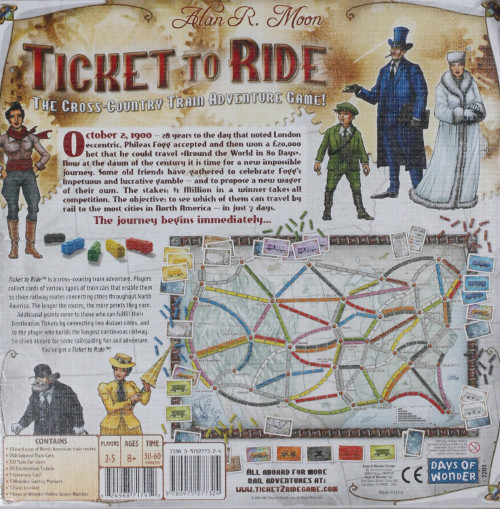 If you'd like to go more "global" try any of these varieties of Ticket to Ride: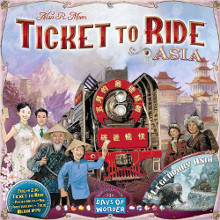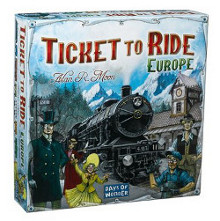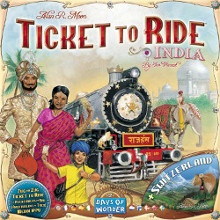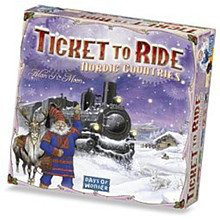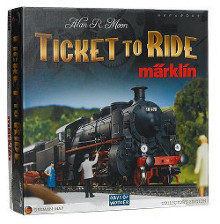 On top of that, you will find various expansion packs to get more out of individual games.
So there you have it. Our first game review. Thank you, Camille, for asking the question 🙂 We will be sharing more over time!