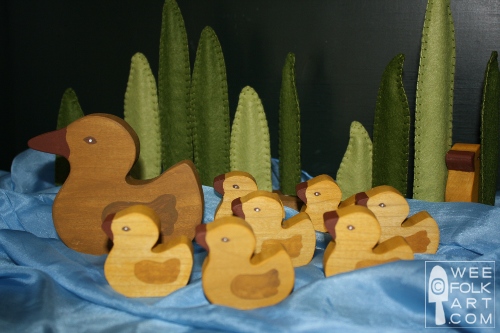 Here is our sweet little set of Wooden Ducklings to go along with our Book Nook – Have You Seen My Duckling? Just like the book, I made 1 Mama and 8 little ducklings. (Notice one curious duckling has gone off on his own!) I then made 2 clumps of reeds for a lovely backdrop or for mischievous ducklings to hide in. They are swimming through a wonderful sky blue silk that makes a lovely lake.
The ducks have very simple shapes and are cut from 1″ ash. The reeds have ash bases, with 1/4″ dowel rods cut to size, covered with felt blades. Today we are sharing the Patterns for Mama and Ducklings. Like all of my wood projects, after the shapes have been cut out and sanded, I paint them with natural milk paint, then finish them with a olive oil/bees wax finish. For information on cutting out wood, painting and finishing, follow the general directions of our Wooden Apple Orchard.
Here are a couple of notes that pertain specifically to the Wooden Ducklings. The necks have a rather small area that you need to cut and sand. When cutting out the ducks (which Tim did for me… it was too cold for me to be outside :), he didn't worry about follow the pattern line exactly. The necks aren't quite as deep as the pattern, but that's okay. Depending on the size of the blade and your skill, the shapes can be a little different… even desirable! Then use the pattern to lightly trace the wings, eyes and beak.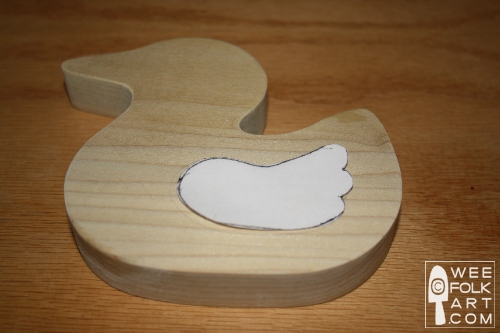 I painted the whole body first using a watered down milk paint. I like it when the grain shows through, plus you will be able to see your markings. Don't work if they are not all the same. If you goof… it just gives a duckling character. (Remember Nemo's small "lucky" fin 🙂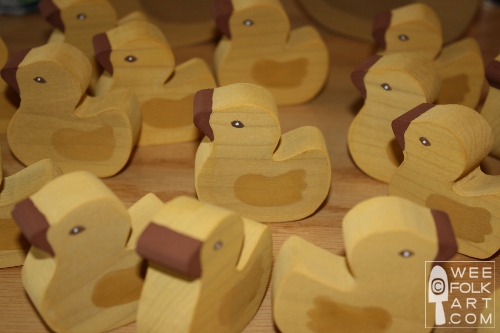 Next time we will be sharing a tutorial for making the reeds. Of course, you don't need to make 9 ducks, actually, we made 18… 9 for our house and 9 to put away for Future Baby! And you don't need the book "Have You Seen My Duckling?" to enjoy these… but it is so fun to reenact books. There are many other duck stories out there that would well with these little ones. Two come to mind; "The Story of Ping" and "Make Way For Ducklings". Can you think of other duck stories to use with these ducklings?
Obviously, these would make perfect basket stuffers for Easter or spring. Enjoy!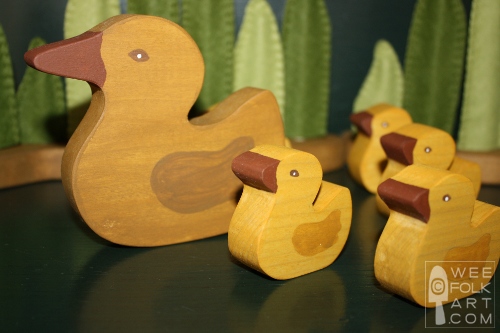 https://www.weefolkart.com
Copyright © Wee Folk Art 2008 – 2010. All rights reserved.
All photos, text and patterns are copyright protected. You may not copy, reproduce or redistribute any material found on WeeFolkArt.com without written permission. Wee Folk Art retains all rights.