Several weeks ago we shared a tutorial for a SQUARE WOODEN STACKER. If you have never worked with wood before, the Square Wooden Stacker was a great project to cut your teeth on. I have to be honest, this Wooden Flower Stacker is a bit more challenging. There are lots of curves… LOTS… but if you take your time, and tackle one flower at a time, you'll make your way through. And… guess what… ours did not turn out perfect. When turned certain ways it can look quite lopsided, but it is still beautiful and wee ones still love playing with it. So, even if you're not a master woodworker, give it a go. I guarantee you that you'll learn a thing or two before you are done 🙂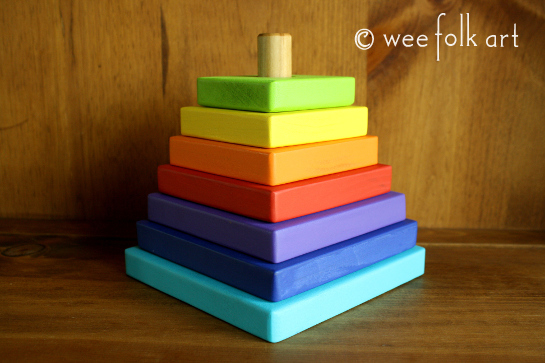 Now, a word about Stackers… Stackers have become an iconic symbol of babyhood, and with good reason; almost every baby owns one. The appeal of a stacker is twofold: they are fun to play with and they are educational. Through exploration of a stacker babies develop dexterity, agility and hand-eye coordination. Through experimentation they can advance any number of skills including sorting, sequencing, and size and color recognition. Not bad for one little toy.
WOODEN FLOWER STACKER

Materials:
wood – 1″ x 8″ solid wood – we used scraps of ash
paint or stain – we used non-toxic, child safe soy paints
finish – we used an all-natural beeswax and jojoba oil finish
dowel rod – 7/16" x 6 1/2"
wood glue
pattern – make copies HERE

Tools and equipment:
Saw – scroll saw
Electric Drill – with 7/16" and 1/2" drill bits – we used Forstner bits but you can also use standard twist bits
Sandpaper – medium, fine, extra fine – we used an electric sander and sanding sponges
safety glasses
face mask
BEFORE BEGINNING ANY PROJECT, READ DIRECTIONS ALL THE WAY THROUGH FIRST TO PREVENT MISTAKES.

IMPORTANT: Wear safety glasses while sawing and sanding. It is recommended to wear a face mask when sanding to prevent inhaling sawdust.

Select high quality wood without knots. It is best to use medium or hardwoods. Soft woods, such as pine, can dent and splinter. In general, the harder the wood, the harder it is to work with. If you are new to woodworking, you can select a soft wood like pine, but be aware it won't hold up as well as harder woods. We used ash. It is a medium hard wood, reasonably priced and available at most stores that sell lumber.

You will be cutting 8 different sized flowers. If you only plan to make one Wooden Flower Stack, you can make one copy of the the pattern. I suggest you cover the pattern with wide packing tape or clear contact paper for strength and ease of marking your wood. Make a small hole through the center of the flower. Cut out the pattern around the largest flower. Trace this on your wood. While the pattern is in place, mark the center of the flower on the wood piece with a pencil. Then cut the pattern down to the next flower and trace this flower on your wood, marking the center. Continue this process until you have traced all 8 flowers on the wood.
If you think you will be making multiple stackers, make 8 copies of the pattern, and cut out one of each size. Remember to cover with packing tape and make a small hole through the center of each flower. You can reuse these templates over and over again. Trace the flowers on your board, making sure to mark the center of each on the wood.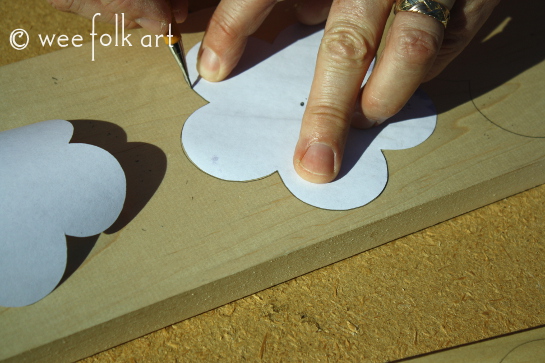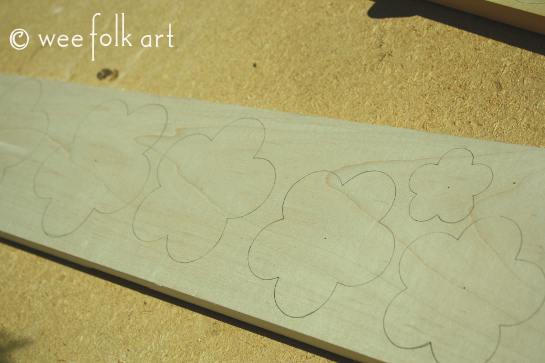 Using your scroll saw cut out all 8 flowers.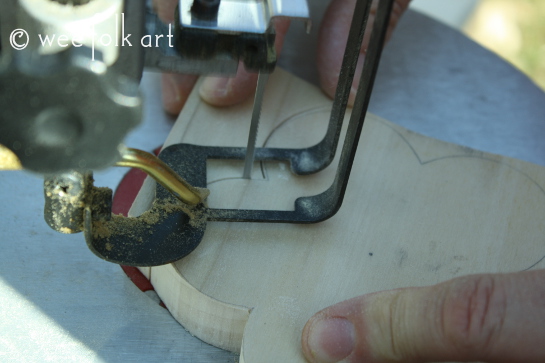 IMPORTANT: DO NOT DRILL A HOLE THROUGH THE LARGEST FLOWER!
Using your 1/2″ drill bit, drill a hole through the center of the first 7 flowers. Do not drill a hole through the largest flower.
HINT: To stop the wood from splintering on the back when the drill pops through, place a scrap piece of wood behind your square. When you drill through the square, continue drilling until you start drilling through the scrap piece of wood.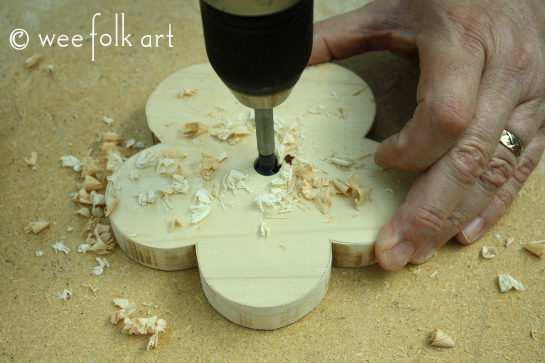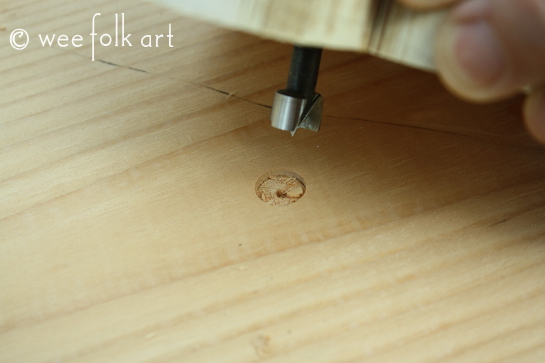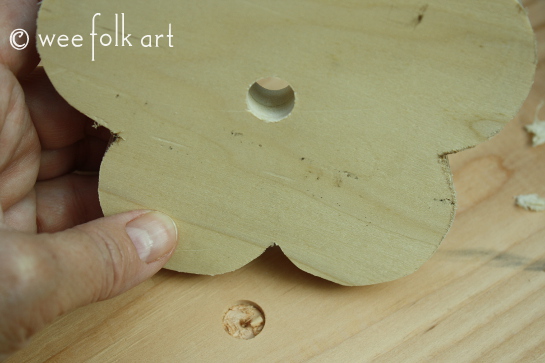 For the large flower, switch to a 7/16" drill bit. (The size of the dowel rod) Drill a hole 5/8" deep in the center. IMPORTANT: Do not go all the way through.
NOTE: Sorry, but I didn't get a photo of drilling a partial hole through the 8th flower. I'm including a photo from our tutorial on making a Square Wooden Stacker just to give you the idea.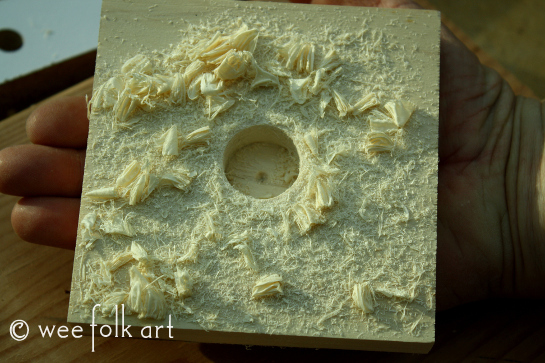 Check to make sure the dowel rod fits in the hole securely. Place your flowers on the dowel rod to make sure everything fits. The flowers should be able to slide up and down with some "play" room. The flowers and rod will be painted, which takes up room. If you think your holes are too small you can make them slightly larger with the drill or by sanding.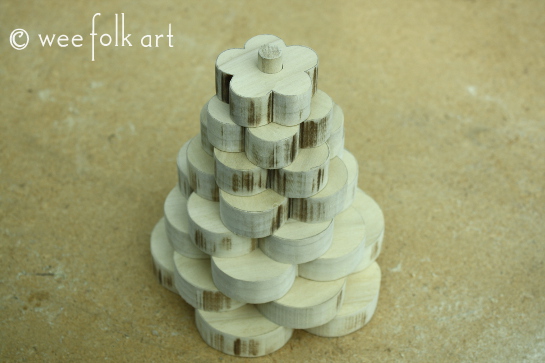 Sand all the pieces including the sides, tops, bottoms, centers and edges. You can use electric sanders or sand by hand using a sandpaper sponge. Sand the top end of the dowel rod, rounding the edges a bit.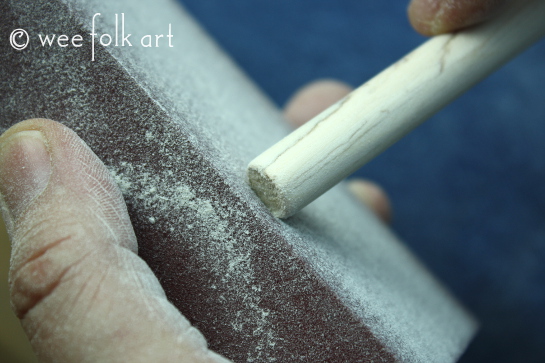 Finishing Your Wooden Flower Stacker:
Follow the directions for finishing our Square Wooden Stacker found HERE.
The only difference is I painted the dowel rod on our Wooden Flower Stacker green like a stem, but how you choose to finish the flowers is a personal choice 🙂
Copyright © Wee Folk Art, LLC 2008-2014. All rights reserved. Please do not reproduce our text, images or patterns without prior written consent.
You may use one or two images on your blog as long as you reference Wee Folk Art and share a direct link back to our page. Please contact us with any questions.
PHOTOS: 3-19-12, 3-19-12, 2-26-14