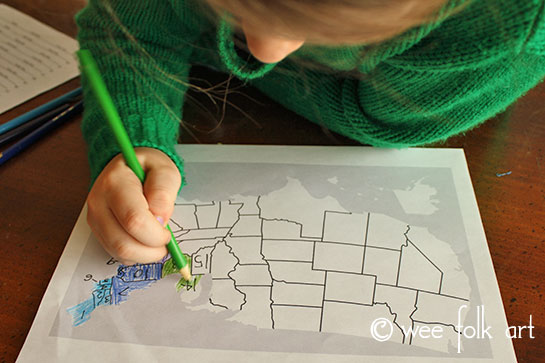 I'm excited to tell you that we will be sharing our new Free Homeschool Companion Curriculum, State Studies Unit 1, on a weekly basis as we are working on the unit. After we have completed the unit I will go back and organized it all into a PDF format similar to our Harvest Time (and other) units. This allows me to tweak things as I go… and trust me, there is quite a bit of tweaking the first time through a unit. In the meantime, please feel free to follow along. To get you started, here is a peek at the State Studies Unit One book list.
Our State Studies Unit 1 is a nine week homeschool curriculum covering 25 states, starting in New England and working across the Midwest. We will be covering the rest of the states in the second unit. I'm creating this unit for my 3rd grader, with my 1st grader tagging along. Although my youngest is enjoying the unit, the memory work is a bit much for her age at this rate. I would say the target age would be 8-10 or when working with a younger student, spread out the unit so that the two units will cover a whole year.
Every week we are completing map work, reading a community enrichment book, cooking a recipe from the area, making a craft or art project, memorizing a poem, doing a picture study, and completing state journal pages. We are having a lot of fun! Those of you have completed our seasonal units will feel right at home with this new unit.
If you are ready to jump in with us and get started on our Homeschool Companion Guide State Studies Unit 1 right away, you will need The United States of America, The United States Cookbook, National Geographic Our 50 States, and the United States Dover Coloring books which are all used every week. Abbie Against the Storm is the picture book needed for the first week.
I've also included some optional readers in the schedule if you would like to tie your Literature Program in with the State Studies. For the first couple of weeks, Windcatcher is the assigned Student Reader and From the Mixed Up Files of Mrs. Basil E. Frankweiler is the optional Parent Read Aloud. We will be using the literature books for our vocabulary exercises, copy work and narrations. If you are unfamiliar with having your student do copy work, narrations, and dictations I recommend reading The Complete Writer: Writing With Ease guide.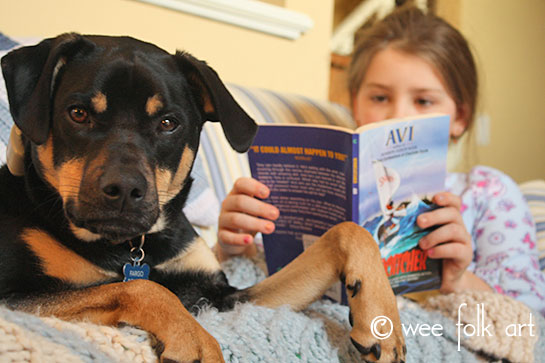 Every week I will be updating this post with a link to the weekly posts and schedule. If you are following along and completing some of the activities at home, we would like to invite you to leave a comment below with a link to your posts. If you don't have a blog but would still like to share photos of your family's homeschool adventures using any of the Wee Folk Art Homeschool Companion guides, you are welcome to add photos to our Wee Folk Art Homeschool Flickr group.

---