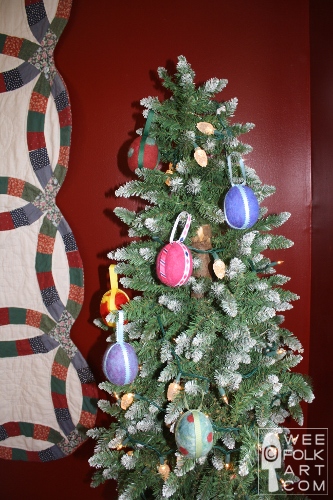 Confession… we are in full blown Christmas mode here. We are so "That Family"… you know the type that already has the tree up (or should I say trees) and lights on the house (although we haven't turn them on yet).  The kids wanted to decorate and it seemed like a good idea to me. It really was much better then spending the day after I host Thanksgiving frantically trying to get everything up so we can celebrate our Christmas with the in-laws. This year we have leisurely been decorating for the past two weeks… we just have to squeeze the extra table for Thanksgiving beside the tree.
Since the trees have been going up… we, of course, have felt the need to make ornaments. The kids and I made these simple, felted wool ornaments a few days ago. The kids and I felted the ornaments and Gammy added the ribbon loops.
Click here to get the instructions to make your own Felted Wool & Ribbon Ornament Balls or find them in our Free Patterns Section.