We hope everyone had a fun filled Halloween. Although we are itching to start some holiday crafting here, we still have a few more autumn/Thanksgiving projects to finish up. Today I am sharing these yarn wrapped candle wreaths that we will be using as part of our Thanksgiving table decorations. These would also look great done up in holiday colors or with a larger wreath base to be used as a wall hanging.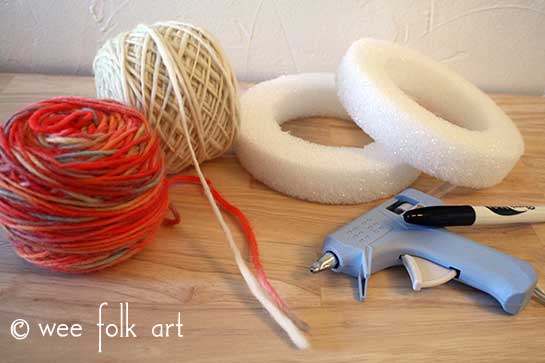 Materials:
Flame-less Pillar Candle
Foam Florist Wreath that fits around your candle
Scraps of yarn (I used 2 colors)
Hot glue gun or craft glue
Marker
Optional: Ruler and Protractor
Directions to make Yarn Wrapped Wreaths:
Use the marker to divide foam wreath into eight equal parts. If you have a hard time eyeballing the sections, you can use a ruler and protractor to divide the circle into 45 degree sections.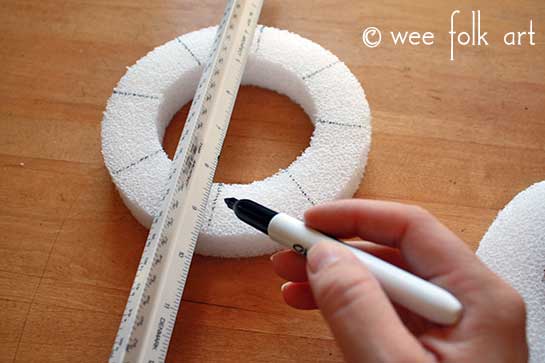 For this project I used some homespun, kool-aid dyed worested weight wool yarn, but you can use any yarn and this would be a great project to use up scraps. If you use a bulky yarn, be sure that your candle will still fit. We recommend using a flame-less candle with your yarn wreath, but if you would prefer to use a real candle be sure to use 100% wool yarn because wool is naturally flame resistant.
Measure out your yarn into 3-4 yard sections. Cut and roll up into mini-skeins. This will make it easier to handle the yarn while wrapping and allows the mini-skein to fit through the middle of the wreath. If you are using scrap bits of yarn, you may not need to do this step.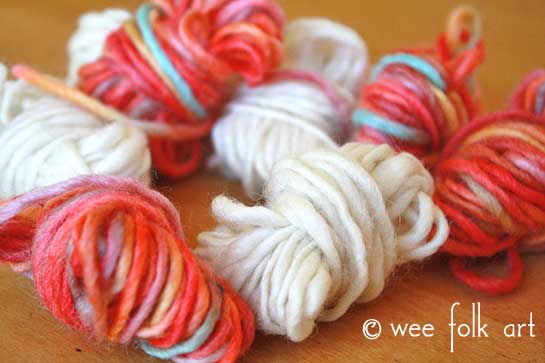 Use the hot glue gun to secure one end of the yarn to the inside of the wreath.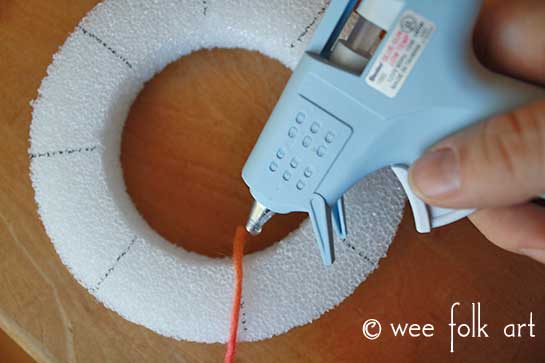 Wrap the yarn around the wreath. Carefully line up the yarn on the outside edge so that you do not leave any gaps. In order to get full coverage on the outside, you will have to overlap some on the inside edge because the diameter of the inner circle is much smaller.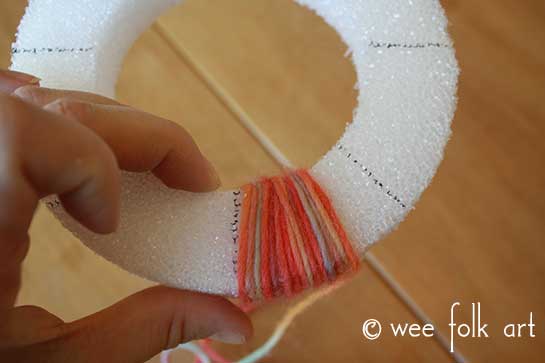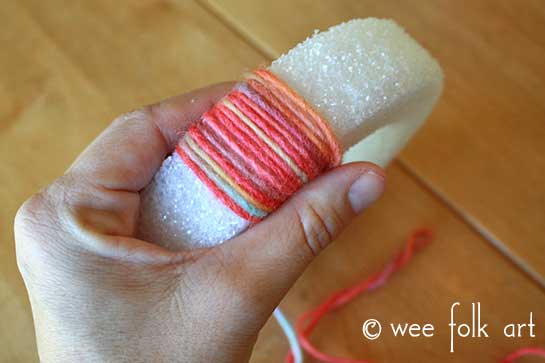 Once you have completed your first section, hot glue the end of the yarn on the inside and trim. Begin the second strand of yarn in the same way. Be sure to keep wrapping going in the same direction.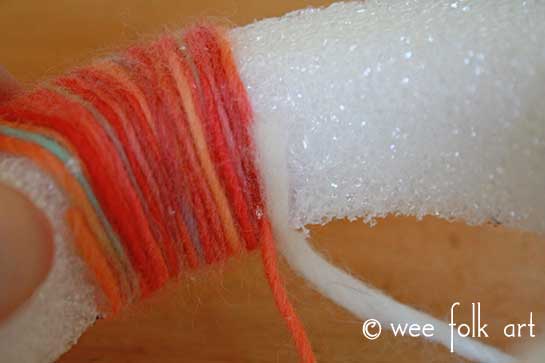 Once your wreath has been completely wrapped,  trim any ends and set on a flat surface.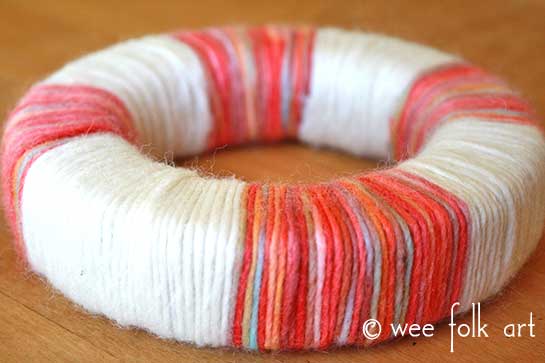 Add your candle. We recommend using a flame-less pillar candle. Although pure wool is flame resistant, we prefer to avoid open flames near flammable materials. If you do use a real candle be sure to place a tray or dish under the candle and never leave a flame unattended.