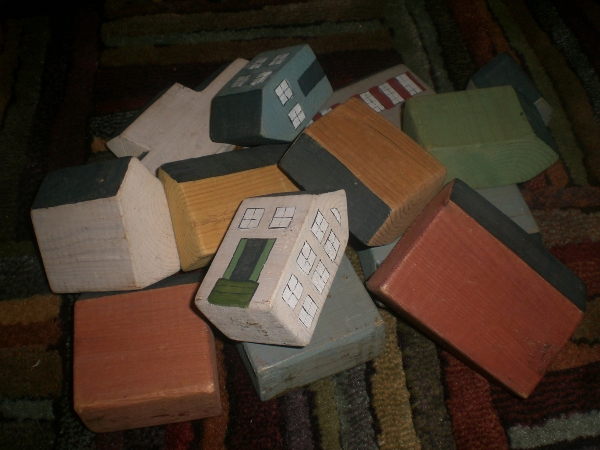 THE DIRECTIONS FOR MAKING THESE BOOKS INCLUDING CUTTING, PAINTING AND FINISHING CAN BE FOUND
HERE
.
After several weeks of felt work, I'm getting a bit antsy and I need to change medium. I've been craving a little wood in my life…am I alone or are there other folks out there who stroll the aisles of Home Depot simply to breath in the intoxicating smell of freshly sawed wood…so I decided to start a wood working project. When thinking about it, I remembered I had some of my children's wood blocks stashed away that I hadn't brought out for the grandbabies yet.
After digging through more boxes than I care to admit to, I unearthed these precious "building" blocks. I made these for my own children 25 years ago. They were played with a lot! My plans were to paint windows and doors on all the blocks…that never happened and the children never cared!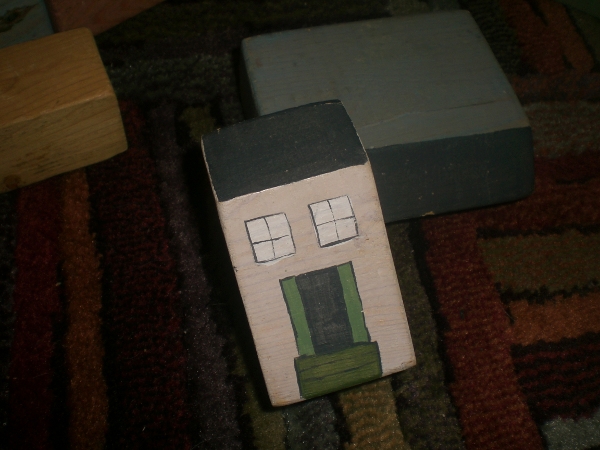 I'm planning on keeping this set out at my house, but want to make a stash for the grandbabies to take home. Over the next couple of weeks I'll be sharing the very simple "how to" make these. Any number of saws can be used to cut out the wood, and I just placed an order for old fashioned milk paint from Gallagher's Milk Paint. I ordered from them because I can buy sample sizes, which will be all that I need for this project. I will finish them with a beeswax and olive oil rub.
So, on Monday, I'll begin sharing how to make these simple but lovely blocks. The supply list is small…a 2 x 4, sand paper, paint and beeswax and olive oil. (I'm using milk paint but if you choose a different paint make sure it is non-toxic!) If you're interested, hope you'll join us for this easy project!