I will be hard-pressed to convince Tim, who doesn't particularly like (hmmm, maybe he really dislikes???) cabbage soup, that I really was craving some and that it had absolutely NOTHING to do with the Tin Can Lanterns I shared this morning …that required vegetable cans! Seriously … I bought the cabbage a week ago with this soup in mind… THAT'S my story and I'm sticking to it!
So, going with the premise that I was not swayed by these adorable Punched Tin Lanterns featured on Craft Foxes…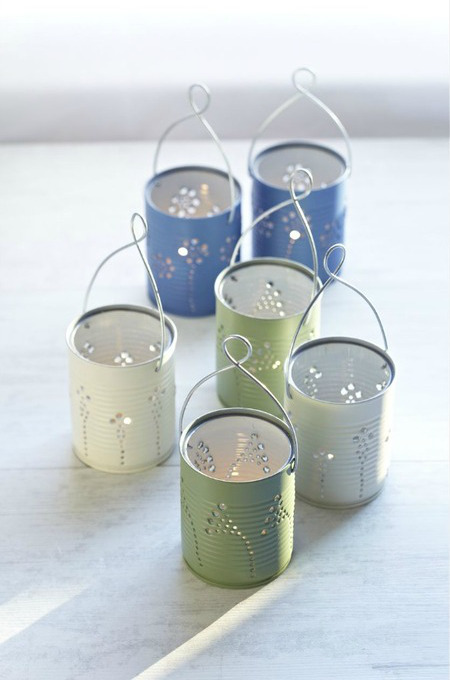 and that it was just a "crazy random happenstance", I just finished throwing together a pot of Cabbage Soup. This is a soup often used by people following Weight Watchers because it has ZERO points, but don't let the low calories fool you. This soup is jam packed with flavor and is chockfull of yummy goodness! There are about a gazillion different recipes for this soup, but I've rather morphed into this variation:
UNOFFICIAL WEIGHT WATCHERS CABBAGE SOUP
Ingredients:
1 head cabbage, cored and shredded – about 10 cups
8 cups of assorted veggies – green beans, peppers, tomatoes, onions, celery, zucchini, summer squash, brocolli, etc. Note: stay away from starchy veggies like corn and potatoes if you want to keep it ZERO points.
6 garlic cloves, minced
2 28 oz cans of diced or stewed tomatoes
1 28 oz can tomato sauce
2 28 oz cans of warm water
1 tablespoon fresh lemon juice – when I have it
2 envelopes of Lipton Onion Soup Mix – I realize Lipton's Soup mixes aren't the healthiest choice you can make, but I do so love the flavor and it is so easy. Certainly you can substitute any brand of flavorings or forego it all together.
6 bay leaves
1 tablespoon dried basil
1/4 teaspoon black pepper – or to taste
Directions:
Mix the packets of Lipton Onion Soup Mix in the water. Put EVERYTHING in the pot, cooking over medium heat until it begins to boil, then turn down to simmer until all the veggies are tender.
NOTE: If you'd like to give this soup some protein, for a vegetarian soup, simply add thick strips of tofu and any assortment of cooked beans. For non-vegetarian soup, add cooked cubed beef or chicken.
BTW… the soup is cooking as I'm writing this. Can't wait to finish up here and have a bowl… yum!
Okay… couldn't wait! The veggies tasted so fresh and the soup was thick enough to be a stew. Also, it freezes well, so put away meal size portions so it is ready to heat up when you just NEED a bowl of Cabbage Soup 🙂
Okay… full belly of delicious Cabbage Soup. Now I can focus! I will be using these cans, and probably a few more, to punch and make into lanterns. You will notice that some cans have a white inside. Tomato products do. It probably has something to do with their high acid content, but the bonus is that the inside of the cans are already painted white!
If you carefully remove a label, you can use this as a template when you are creating a design you wish to punch on your can. BTW… better to remove the label BEFORE you get the can wet like I did. It tends to rip when wet.
Finally, I decided to save the lids, too. Not sure what I'm going to do with them, but I'm sure I can come up with something 🙂
So, there you have it. Make an easy to prepare, but oh so yummy cabbage soup, and as an extra bonus, you'll have tin cans ready to punch. Hopefully, I will get to these over the weekend. I'll share the finished project as soon as I'm done. In the meantime… start opening some can 😉
Photos – 7/12/13 and Blog Photos