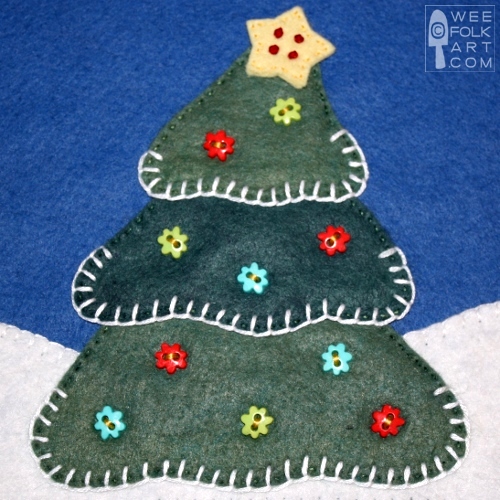 Here is our first variation of our Christmas Tree Applique Block. I wanted the use the applique to make this year's Christmas cards. Because I have so many cards to make, I wanted to keep the design rather simple. I started with a package of blank cards from JoAnns. They came packaged with 10 cards and envelopes for $3.99. Not bad. Then, I did a little tracing with a thin permanent marker, used white and gray water color pencils to add snow and shading, tied a button to the top of the tree with embroidery floss and tah-dah, a simple, but beautiful Christmas card. Want a little more pizazz? Simply add ornaments using paints, sequins, buttons, etc. to the tree and a little fine glitter to the snow to make your trees more "showy". Finally, use white or silver paint pens to write your personal message on the inside.
Here comes the spur of the moment giveaway… I'm looking for the "perfect" sentiment to write inside the card so I'm calling on all you creative, wise and witty readers, to help me out. It can be sincere or silly… there's a place for both. Just post your suggestion here, and on Sunday evening, I will have a panel of totally unqualified judges help me chose the message that will go inside my cards this year. If your suggestion is chosen, I will send you a pack of 10 Kimara made Christmas cards for your holiday giving! So, put your thinking caps on or grab your 3rd morning cup of coffee, and help me finish my cards!
You can get directions on how to make your own Christmas Tree Cards HERE or in our FREE Patterns. Enjoy!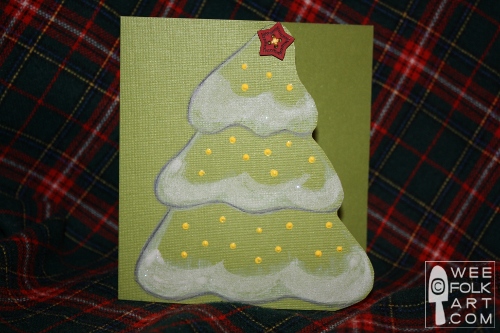 NOTE: This mini spur of the moment giveaway will close on Sunday, October 11, at 8:00 est. Good luck to everyone wishing to enter!
EDIT: The giveaway is closed. Thanks to everyone that offered suggestions!