Below is a recipe for Oatmeal Cran-Orange Cookies that Megan sent in from Ducks In A Row. It sounds "yumilicous"! The orange flavored cranberries and cinnamon make them "Holidayish" (imagine how wonderful these must smell when baking!) but the heartiness of the oatmeal make them a cookie to bake year round. Thanks, Megan, for sharing your recipe. Make sure you stop by Ducks In A Row and check out her blog. BTW… if you're not a Wee Folk Art FaceBook fan (I featured these there), scroll down and check out her November 18, 2009, "Half-Pint Pies Are Cute"! I adore these little pies.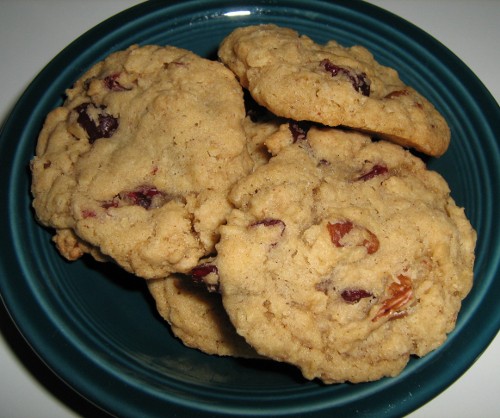 Hi! Megan here from Ducks in a Row with my recipe for Oatmeal Cran-Orange Cookies. I came up with it while trying to re-create a cookie that I got from a bakery. Traditionally, I've never had much luck making my own oatmeal cookies. They always ended up crispy (I prefer chewy) or they would spread waaay too much during baking. I've tried many recipes over the years with no luck and finally resigned myself to a life of having to satisfy my oatmeal cookie cravings with a trip to the bakery…a sad fate. Well, I recently had a really delicious oatmeal and Craisin (dried cranberries) cookie from the bakery and it inspired me to try my hand at baking my own again. I gathered a couple of different recipes and just kept tweaking them until I came up with something I liked. A handful of batches later, I came up with this recipe.
Oatmeal Cran-Orange Cookies
1/2 c. butter, softened
1/2 c. packed brown sugar
1/2 c. sugar
1 egg
1/2 tsp. vanilla
1 c. old fashioned oats
1 c. flour
1/2 tsp. baking soda
1/2 tsp. baking powder
1/2 tsp. salt
1/2 tsp. cinnamon
1/2 c. orange-flavored dried cranberries
1/2 c. chopped pecans
Beat butter, sugar, egg and vanilla for about 5 minutes. In a separate bowl, combine the remaining dry ingredients (except cranberries and pecans). Add half of the oats mixture to the butter mixture and mix well. Add the other half and mix well again. Stir in the cranberries and pecans. Bake at 350 for 12-13 minutes.
This recipe yields about 36 cookies. I've also made it with just 1/2 cup of regular dried cranberries and a couple dashes of pumpkin pie spice – and that was good, too!