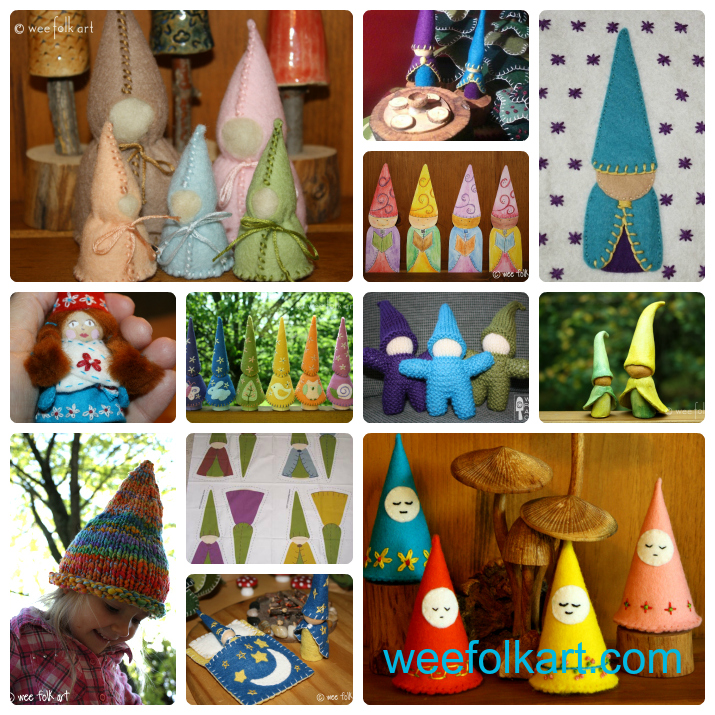 We started Wee Folk Art back in July of 2008, so we are celebrating 7 years of sharing our passions here on the blog. Every once in a while I love to flip around through our early blogs. In the beginning we were trying so hard to find our footing. Over the first couple of years we changed directions several times… even contemplated throwing in the towel more than once. I'm so glad we stuck with it. Wee Folk Art is such an important part of our lives, and we genuinely love what we do.
If you've been with us for a while you will know it's hard to think about us without thinking about gnomes. Of course, Wee Folk Art is so much more, but we adore our friendship with these kind-hearted wee beings. Just for fun I went through and pulled some of our gnome projects. Trust me when I tell you these aren't the only ones. But here is a pretty good sampling of gnomes on Wee Folk Art. Hope you enjoy the trip down memory lane as much as I did!
---
From: Wee Folk Art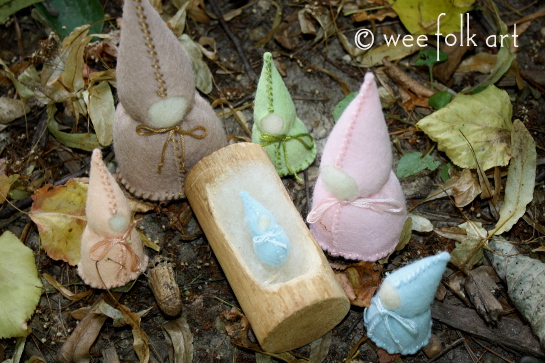 Perhaps our easiest gnomes to make, all you need is some wool felt, wool roving and embroidery floss to create this adorable family. There above link is for the gnome baby. You can find the rest of the family HERE.
---
From: Wee Folk Art

These are the very first gnomes I made for Wee Folk Art, but not the first gnomes I made for my wee ones. These peg gnomes became our logo and hold a very special place in our hearts. Fast and easy to make, you will quickly have a gnome infestation in your homes!
---
From: Wee Folk Art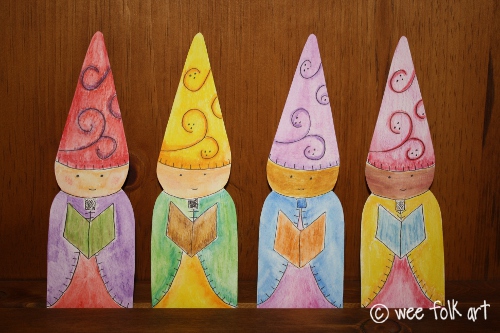 When you are starting with a peg gnome as your model, can your bookmarks be anything but adorable. Using the pattern print them and heavy card stock and you have an adorable bookmark. Take it one step further and you can make an adorable card. You can find the directions for the gnome greeting cards HERE.
---
From: Wee Folk Art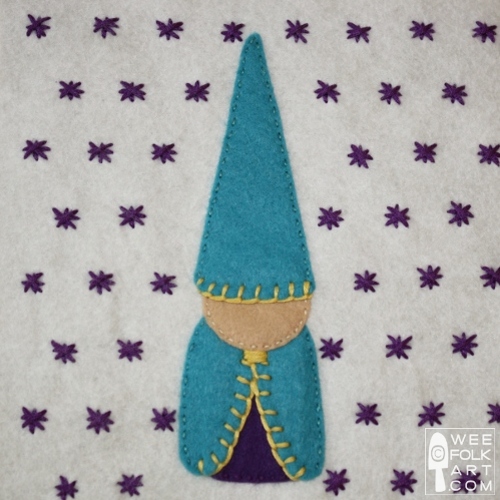 Wee Folk Art is widely gnome, I mean known, for its gnomes and applique blocks. So… of course we have a gnome applique!
---
From: Wee Folk Art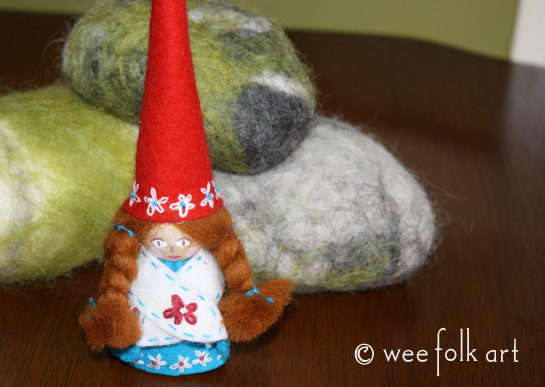 Britta is the matriarch in The Thicket. Although you can find her hard at work taking care of her babies and house, you're just as likely to find her on a mission with her husband, Axle, mending the wing of a hurt bird or repairing the bridge that spans the brook. Although her day-to-day clothes are very practical, she loves to dress up to the many festivals and celebrations they have in The Thicket. Follow the tutorial to fashion your own version of our Festival Gnome.
---
From: Wee Folk Art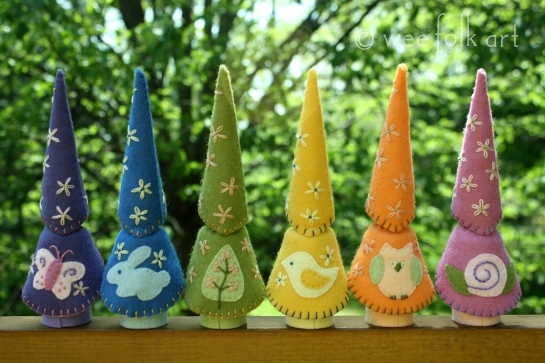 When is the right time to bring fanciful gnomes into your child's life? As soon as they are sitting up and ready to play, of course! Our Big Gnomes for Wee Hands were designed with our littlest ones in mind. The large bodies are easy for wee hands to grasp, and with no small parts, safe for supervised play. Make a pair (one for each hand, of course) or make all six in this series for a delightful Spring Rainbow of Big Gnomes!
---
From: Wee Folk Art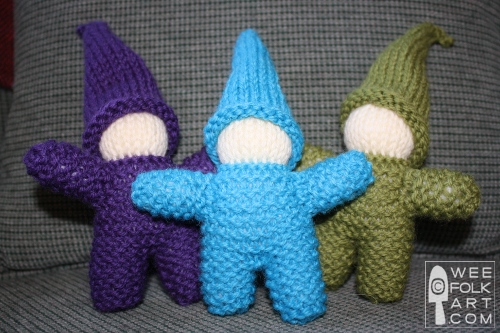 Wee hands need wee gnomes. Here's a whimsy of gnomes just waiting to be played with, and undoubtedly, chewed on by little munchkins. Above we are linking to the hats for the gnomes. You can find the pattern for the dolls knit flat HERE or knit in the round HERE.
---
From: Wee Folk Art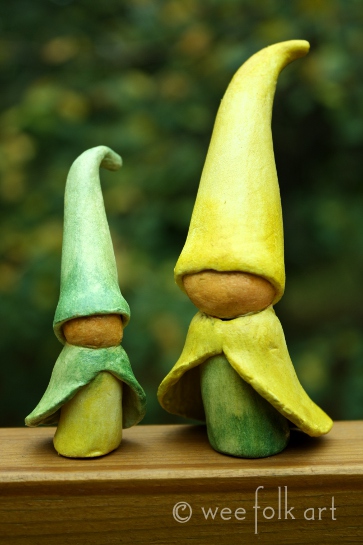 Using our basic gnome pattern and some paperclay we fashioned some interesting new gnomes. I love this look. These would not be appropriate for play, but rather they are shelf gnomes that are quite happy to watch the world go by!
---
From: Wee Folk Art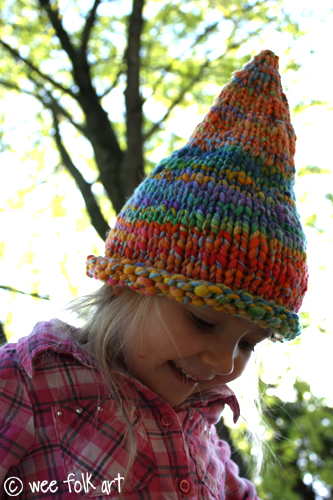 Using a super bulky yarn… the yarn pictured was spun by Michelle… this gnome hat knits up in no time. Whether you have a wee gnome or pixie in your life, it's a given that you'll have to knit this hat!
---
From: Wee Folk Art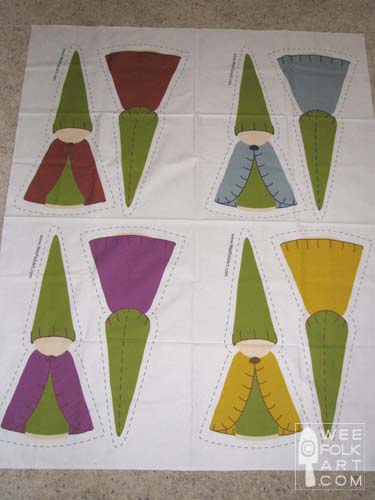 Several years ago Michelle took our, you guessed it, basic peg gnome design and create a printed pillow that can be purchased from Spoonflower. The tutorial has directions for making the pillow and a link if you'd like to purchase a printed panel.
---
From: Wee Folk Art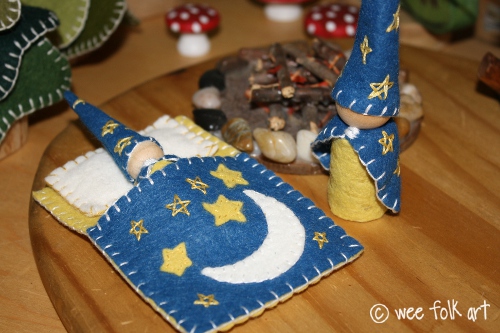 Although our gnomes have proper beds, sometimes they enjoy sleeping under the stars around a campfire. Here you will find directions for modifying our Basic Waldorf Style Gnomes to create this celestial pair and sleeping bags certain to usher in a good night's sleep.
---
From: Wee Folk Art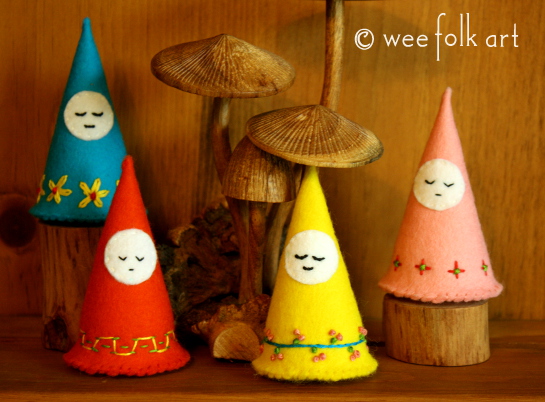 Yes… we realize these are rather simplistic gnomes, but that's the point. These Simple Little Gnomes are a wonderful project for beginning sewers be they six or 60! By using a running stitch to attach the face to the gnomes, and an overcast stitch to sew it all together, even wee crafters can tackle this project.
---
From: Wee Folk Art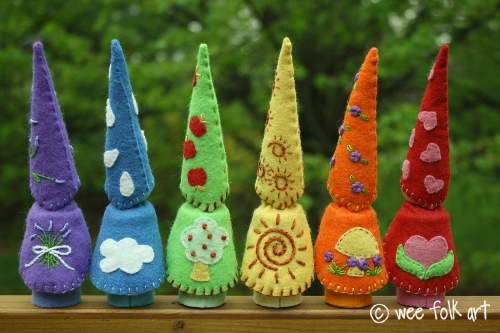 Here's another group of big gnomes for wee hands. Here you'll find appliques and embroidery instructions to make a colorful rainbow of gnomes.
---
From: Wee Folk Art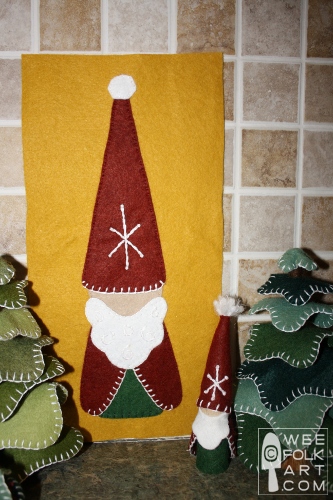 Ho! Ho! Ho! A Santa Peg Gnome. Naturally! Adapting our Basic Waldorf Inspired Gnome you can fashion a jolly elf… or in this case… gnome! You can also find the Santa Peg Gnome Applique HERE.
---
From: Wee Folk Art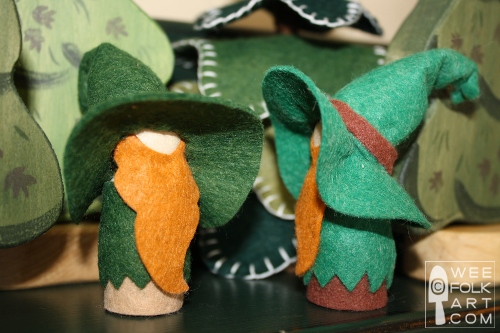 If you have a Santa Peg Gnome it's only proper that you also have Leprechaun Peg Gnomes! These rascals cause untold mischief in The Thicket!
---
From: Wee Folk Art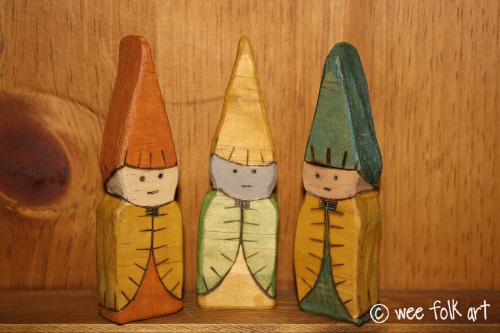 Two words… peg gnomes. Shocker, right? Well… actually flattened peg gnomes. These gnomes were cut out using a scroll saw, detail added with a wood burner, and painted with milk paints. I do love their loop-sided look.
---
From: Wee Folk Art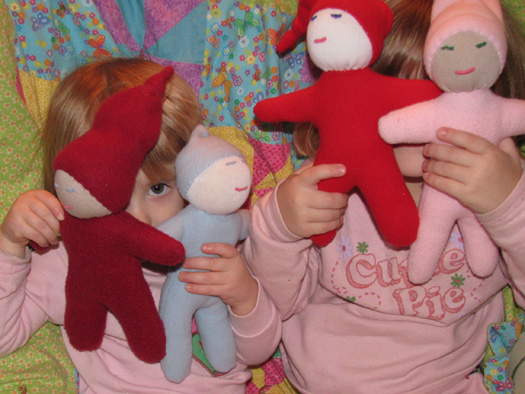 These are super squishy, super soft and super cute Waldorf inspired baby dolls. Of course with their pointy hats, I just gnome these are wee gnome babies. Perfect first dolly for a wee one.
---
From: Cafe Press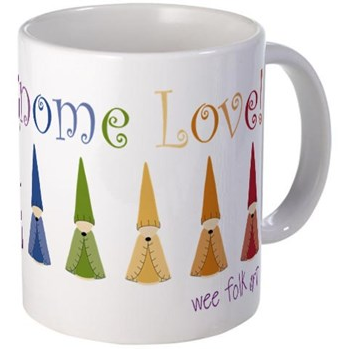 Visit Cafe Press to find a whole line of fun things with Wee Folk Art's Gnome Love! goodies. From hoodies to water bottles, so many fun things with the Wee Folk Art logo. I have coffee out of my Gnome Love! large coffee cup each morning. It is guaranteed to put a smile on my face!
---
From: Cafe Press
Because it's always good to have a choice, we have 2 different gnomey lines on Cafe Press. Whether you are looking for a onsie for your favorite newborn or need a new mouse pad, there are tons of fun items to pick from with the Wee Folk Art Logo.
---
There are many, many more gnome and fairy FREE projects and tutorials available on Wee Folk Art. Make sure to click on the Gnomes and Fairies tab at the top of the page to discover all the gnomey goodness available to you at Wee Folk Art.
---