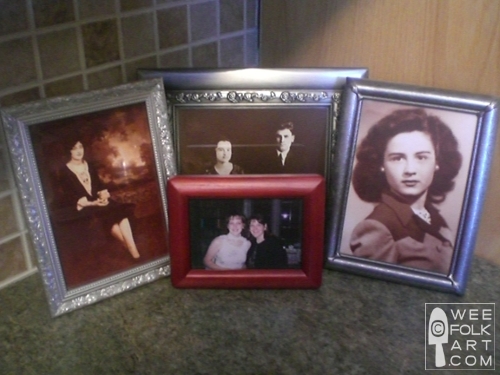 EDIT: It had been my plan to just include the last paragraph of this blog, first printed December 8, 2008 on One Generation to Another. Since this morning, I've gotten 3 requests for the complete blog… so here is the post in its entirety… titled… Polish for the Day.
I have a strong Polish ancestry. With the possible exception of contamination from an amorous invader that I am unaware of, I am 100% Polish. (Poland's history is laced with invasion and occupation from…well, from just about all neighboring countries!) I think I'm fairly rare today…a fourth generation American with a pure blood heritage. It stopped with my children, however. Their father is…well, he's a mutt. Nothing wrong with that; mutts have many wonderful qualities including hardiness and longevity. But this does mean I can't share my pedigree with my children; they too are mutts! What I can share with them, however, is the few remaining vestiges of my Polish ancestry.
You would think with all this Polish blood pulsating through my veins that I would be well versed in the culture and traditions of Poland, but I'm not. Both my maternal and paternal great-grandparents were born in Poland and came here hoping to improve their lot in life. Like most immigrants, they settled with their own kind. They spoke Polish in their homes and amongst their friends. It was their children, my grandparents, that ventured out into the American melting pot and brought English into their homes. So, the progression was, my great-grandparents spoke predominantly Polish, my grandparents spoke Polish in their homes, but English everywhere else, my parents could read Polish and speak it well enough to converse with their grandparents but English had become their native language, and I, well the only Polish I know is this rather naughty song that some relative taught me, but it would prove useless if I needed to communicate with a Pole!
Polish traditions followed the trend of the Polish language, with each generation giving up a little more of their connection to their motherland, until now, I'm left with the cultural equivalent of a little naughty ditty! The only time my Polish ancestry surfaces is at Christmas dinner. I serve pierogi (stuffed dumplings), kielbasa (sausage), golabki (stuffed cabbage), makowki (poppy seed bread), kluski (thick buttered noodles), kapusta (sauerkraut), mizeria (cucumbers and sour cream) and sernik (cheese cake). If that sounds Greek to you, it does to me too! In our house we use the English words for most of these foods.
The lovely thing about Christmas dinner, besides some seriously delicious food, is my connection to my past. There was a time when these foods were a mainstay in my ancestors' daily life. Today, they are reserved for special occasions; actually A special occasion, Christmas dinner. I wish my grandparents were still around to share this feast with us. Since they can't be, at Christmas I bring not only the memory of Bushia and Grandma Pearl in the kitchen with me, I bring their pictures. On my kitchen counter are photographs of my grandmothers as young women, taken at a time in their lives when they would have been busy preparing Christmas dinners.They remain with me in the kitchen throughout the month of December. I rather think it would make them happy to know I still feel a strong ancestral tug. I also have pics of my mom and daughter there too, even though they spend the day helping me with Christmas dinner. But it pleases me to see the 5 of us together, knowing full well, that if not in body, certainly in spirit, we're sharing in the festivities of Christmas day, and that although my connection to my ancestry may be tenuous, it's still alive!