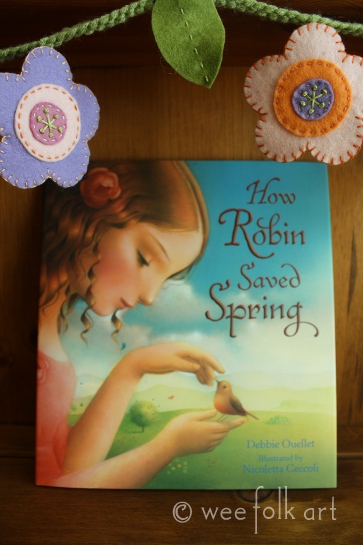 When it comes to children's books, I find my favorite books tend to be the classics. As a preschool and elementary school teacher, I was exposed to the latest books, and although there were many wonderful new books, my top 10 still would have been the tried and true.
I find even today, as I peruse the books at Barnes and Noble, I find myself comparing books to the classics like Caps for Sale by Esphyr Slobodkina, Blue Berries for Sal by Robert McCloskey, and The Little House by Virginia Lee Burton. So, when I find a new book that I love, I am thrilled to share it with other people.
The other day I meet How Robin Save Spring written by Debbie Ouellet, illustrated by Nicoletta Ceccoli. It is your basic pourquoi story, answering these questions, along with many others; why do bears hibernate in winter, why do caterpillars spin cocoons, how did the skunk get a white stripe on his back, and not only why do robins have red breasts, but why do they fly south for the winter. Although the answers are a bit contrived and are not part of traditional folklore, the story is engaging and the illustrations are sweet and vibrant.
The story opens with Lady Winter refusing to reliquish her hold on the world. Sister Spring is due to wake up at any time, and Lady Winter knits a magical white blanket and keeps Sister Spring in a deep sleep. Robin witnesses the whole thing and enlists the help of the woodland inhabitants to try to wake up Sister Spring. In turn, each animal is foiled by Lady Winter and is punished for their attempt. Finally, Robin outsmarts Lady Winter, but he too must pay a price.
I will happily share this book with my grandbabies… can I give it better praise than that 🙂 I won't go so far as to say I think this book will become a classic, but if you're looking for a new seasonal book, this one is well worth a look.