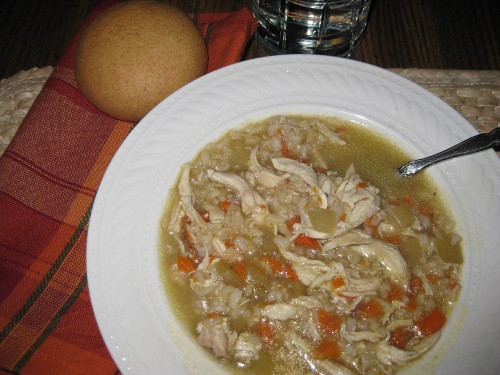 Remember… If you would like to share your favorite chicken soup recipe with our readers, just email us the recipe, along with a little something about the soup, your website, if you have one, and a pic is available. It's always so much fun to "swap" recipes with friends!
Sue, over at Happy Healthy Cooking, shared her favorite go-to chicken soup recipe with us. For those of you that are trying to reduce the amount of sodium in your diet, this soup has far less than our rather salty offering! I love the addition of the wild rice. She also uses rosemary and thyme to add sublte flavor to her soup. I can't wait to give this a try. Make sure you stop in at Sue's blog and check out all her yummy looking recipes. Thanks again, Sue!
BTW… We are in the process of organizing our recipes. Hopefully, over the next couple of weeks, they will be in a much easier to use format…. I hope, I hope 🙂
Here is my go-to chicken soup recipe. We love it!
This soup is very mild flavored. If you'd like, you may add a bit more salt to taste but we prefer it the way it is — not too salty. The original recipe called for mushrooms, but I substituted carrots since Randy doesn't care for mushrooms. Be sure to use bone-in chicken breasts. They add more flavor to the soup than boneless chicken does. Plus, they are less expensive.
Chicken and Rice Soup
Yield: 8 cups
2 skinless bone-in chicken breast halves (about 1 pound)
7 cups low-sodium chicken broth
2 cups thinly sliced or chopped peeled carrots
1 cup chopped onion
1 cup sliced celery (include the leaves)
3/4 cup brown rice (not "minute rice")
2 tsp. crushed garlic
3/4 tsp. dried thyme
3/4 tsp. dried rosemary
1/8 tsp. ground white pepper
Coat a 4-5 quart pot with nonstick cooking spray and preheat over medium-high heat. Add the chicken breasts and cook for a couple of minutes on each side or until the chicken is nicely browned.
Add all the remaining ingredients to the pot, and bring to a boil over high heat. Reduce the heat to low, cover, and simmer for 25 minutes or until the chicken is tender and thoroughly cooked. Remove the chicken from the pot and set aside to cool enough for handling. Cook the soup for an additional 30 minutes or until the rice and vegetables are tender.
Pull the chicken meat from the bones, and tear it into bite-sized pieces. Add the chicken to the soup, and simmer for an additional minute or two. Serve hot.