Today we are sharing a post from our friends at Imagine Childhood. They have put together a lovely tutorial to help you make your own Nature Inspired Wool Felt Holiday Stockings Pattern. They are also offering our offering Wee Folk Art readers a 10% discount over at the Imagine Childhood shop!  Simply enter "WeeFolk" as your discount code for items purchased before 12/2/16!
Nature Inspired Wool Felt Holiday Stockings: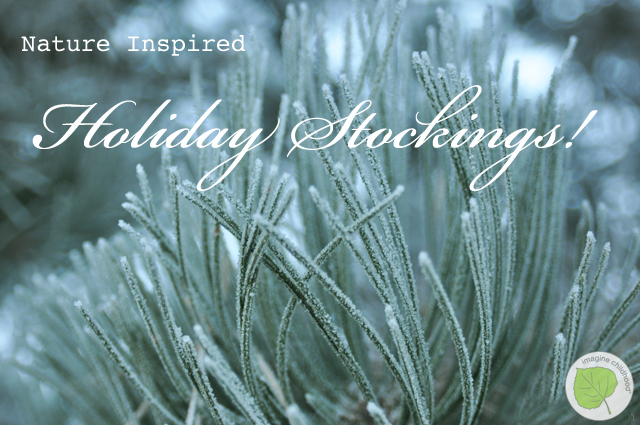 For many years, we've made these nature themed wool felt stockings as a gift for one lucky giveaway winner during holidays on our blog. This is the first time that we've shared our complete patterns and instructions though, and we're so excited to be sharing them here with the wonderful crafting community of Wee Folk Art.
One of the reasons we love working with wool felt, is that it is a fantastic material to use with kids. Since you don't have to worry about fraying edges, it's much more forgiving, and by making bird silhouette or animal track stockings like these, you can also pair a little lesson for the kiddos with a fun craft, a favorite combination over at Imagine Childhood.
So, without further ado, here's how to go about making one for yourself:
Wool Felt Holiday Stockings Pattern Materials:
Wool felt in two colors (a wool/rayon blend is great too and will be a bit stronger)
Sewing needle
Thread
Sewing machine (optional)
Holiday Stockings Pattern (use as a guide or increase 330-375%)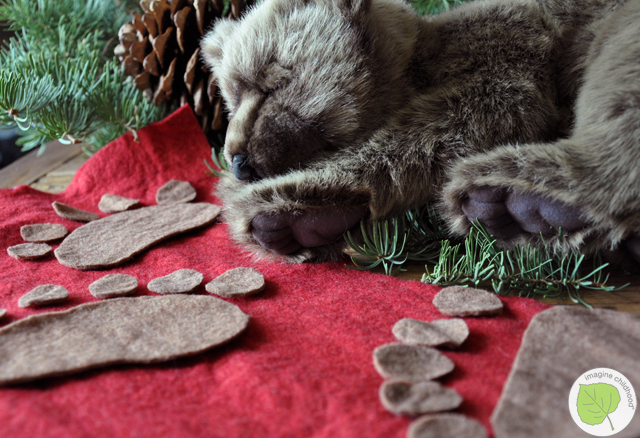 Step 1:
Place two pieces of wool felt on top of each other. Using the pattern as you guide, cut out the stocking shape.
Once you have the stocking shape cut out, cut a strip of felt that is 2″ x 9″.  This will be the loop you can hang the stocking from.
Step 2:
Once you have your stocking shape cut, sew the edges together with a blanket stitch if you would like to do the entire thing by hand, or, zip around the edges with a sewing machine leaving a 1/4″ seam allowance.
Fold the felt strip over the top edge near the heal side of the opening and sew through both sides of the stocking and both ends of the strip to secure firmly.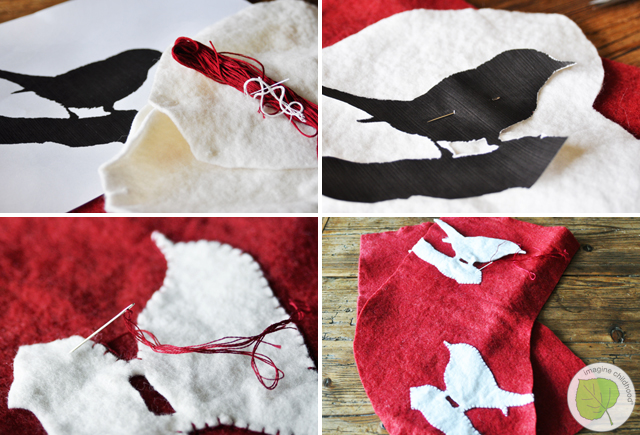 Step 3:
Now that you have your stocking blank sewn, you can choose which type of stocking you'd like to make. We've included three different types of animal track patterns and four different bird silhouettes, but by all means, follow your fancy. A tree leaf stocking would be lovely too!
Once you've decided on the theme of your stocking, use the patterns to cut out the bird or animal track shapes in your alternating color of felt.  If you are making a few different stockings, you could make one that is white with red silhouettes and one that is red with white silhouettes (or whatever colors you have), to add a bit more interest to your holiday decorations.
When you have all of your pieces cut out, arrange them on the stocking where you would like them to sit, and secure them each in place with pins.
Sew the pieces on using a blanket stitch around the edges of each shape.
And that's it!  Your nature themed stocking is done!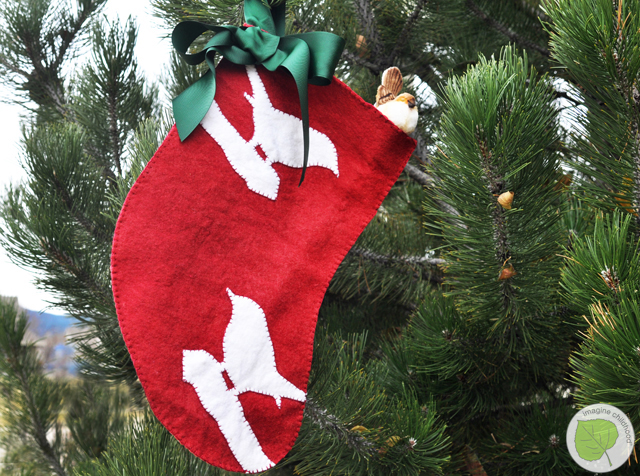 Suggested Activities:
If you are making these stockings with your kiddos, invite them to go on a nature walk before you start your crafting session. Look for birds or animal tracks (I've even seen them in the concrete in my urban neighborhood).
When you get home, grab your favorite bird guides or animal tracks guides (or visit audubon.com) and learn a little more about the birds and animals that are in your neighborhood.
Thank you so much Michelle for inviting us to share this craft today!  We've had so much fun, that we'd like to keep it going by offering Wee Folk Art readers a 10% discount over at the Imagine Childhood shop!  Simply enter "WeeFolk" as your discount code for items purchased before 12/2/16!
Wishing you all a wonderful holiday season in your corner of the world!