If you want to make a special gift for a special wee person in your life, you still have time to knit one of these totally lovable and huggable dolls before the holidays. These dolls have been getting so many hits on our blog right now, I thought I'd showcase them for anyone that was unfamiliar with them. The patterns are all found on our blog and they are all free. And the best part… there is something for everyone. If you are a newbie knitter, no problem. You can knit the doll flat and sew it up. If you are more experienced, you can knit it in the round. If you are a slow knitter, pick a small sized doll… they come in 6 sizes. If you don't want to mess with adding hair, not to worry. Simply knit a gnome hat and you are done! Here's your chance to pick and choose and make a dolly to be cherished for years to come.
BTW… before anyone asks… no, we don't have patterns for the gowns the dolls are wearing. Seems I'm not very consistent on how much stuffing I add and I need to design a new one each and every time I make the doll! It is on my short list to start making doll clothes so hopefully we will have a few patterns before long. There is, however, a free knit pattern for making the pants and sweater on our wee lad. Hope you find a doll that tickles your fancy. Enjoy!
---
This is where is all began. This pattern was designed with beginning knitters in mind. The dolls are knitted flat which means no double pointed knitting needles to deal with! Also, there are no increases or decreases. If you can knit and purl you can make one of these squishy dolls. You can choose from these 6 sizes, 12″, 10″, 8″, 5″, 4″, and 3″.  Check out the links below if you would like to add hats, hair or faces.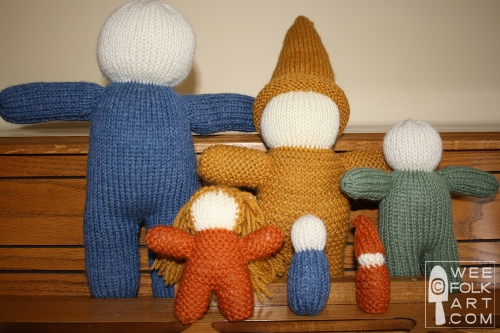 ---
Although this pattern is for knitting a 12″ baby doll in the round, you can use the same directions for turning any of the basic 6 sizes into a knit in the round doll. Included in this pattern are directions for adding the hair, a face, and yes, even a belly button. I make this particular doll most frequently.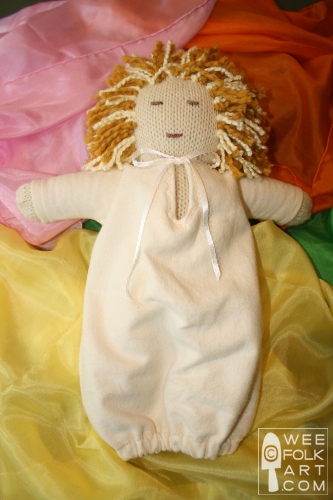 ---
Around these parts we are crazy for gnomes so of course we have included gnome hats in 6 sizes in case you are hankering to be surrounded by a whimsy of gnomes! Very easy peasy to make. Although you will need to decrease to make the hat, it is a simple knit 2 together. A collection of rainbow gnomes always makes a wonderful gift. Pictured here are our 5″ toddler knit dolls, but again, there are directions for all 6 sizes.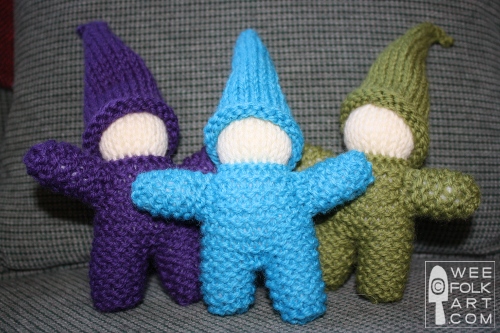 ---
Here is a basic pattern for a sweater and pants for our 12″ doll. Again, it is knit in the round but it is very straight forward. There are also tips for creating the moppy hair. I affectionately named this little guy Bon Jovi 🙂
---