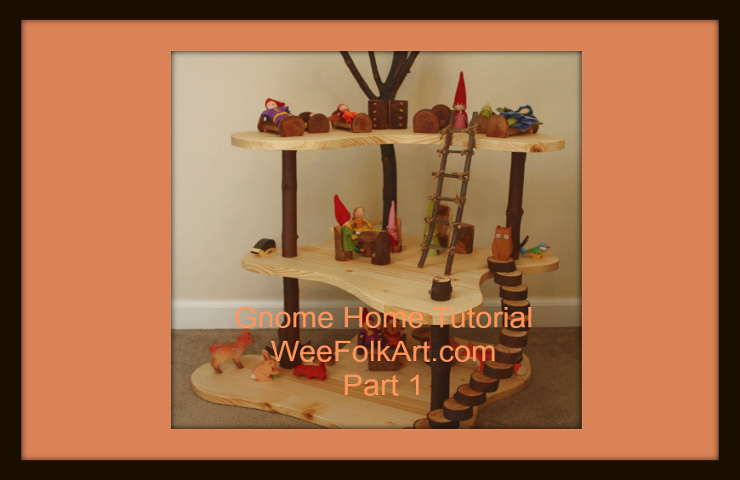 Finally… the long awaited tutorial for building your own gnome home! If you are like me, you are doing a little happy dance right now! That's the good news. The bad news is we are breaking it down into 4 posts because the directions are so long. When I share a tutorial, I like to make sure it is thorough. Hoping that in this series we can help you through every step of designing and making a gnome home that will last for generations. In Part 1, we will discuss the basics… like determining size, selecting materials and learning how to draw up unique plans for your gnome home.  In Part 2 we will talk about cutting out your branches and platforms. In Part 3 we will share how to assemble your gnome home. Finally, in Part 4 we will share some ideas for creating accessories like ladders, bridges and steps. Hope you find the series helpful!
---
GNOME HOME TUTORIAL LINKS:
Part 1: Getting Started can be found HERE.
Part 2:  Cutting Out Pieces can be found HERE.
Part 3: Assembly can be found HERE.
Building Stairs can be found HERE.
Build A Ladder can be found HERE.
---
PART 1: CONSIDERATIONS, COLLECTING MATERIALS AND DRAWING UP PLANS
BEFORE YOU BEGIN:
So, you've decided to make a gnome home for all the wee folk that live in and around your house. They will be ever so grateful! Before you get out the wood and saws, let's spend a few minutes just chatting about your vision for your gnome home. There are a few questions you'll want to consider.
Probably the first question to consider if you are planning on making the house for children are their ages. Although the gnome home itself is quite safe for children, the wee inhabitants and their belongings can be choke hazards for young children. The general rule of thumb for sharing small parts with children is three years old and up, but I highly encourage you to consider the children involved, and if your child still puts things in his mouth, I might consider waiting for another year. A gnome home will be just as appreciated by an eight year old as it is by a three year old. You can still make a gnome home for a younger child but instead of making traditional gnomes, make our Big Gnomes for Little Hands. Then make a simple 2 story home for the gnomes. When your child gets older, you can always make a big house or add on to your smaller version. Home improvements and additions are always such exciting projects!
If children will be playing with the house, and yes, there are adults that make the houses just for themselves, consider not only the width of the house but also the height. We've learned from experience that if the house is too tall, wee ones will be tempted to scale the walls to get to the top, which can be quite disconcerting to the residence of the gnome home and a bit dangerous for the child! Make the size of the house match the size of the child.
Finally, you will want to consider size. Where are you planning to keep the house? Do you need a wee house that can be picked up and tucked away or do you have the space to have a house that can sprawl and stay put? Think of the size of the footprint you want your gnome home to occupy.
Here is a list of the basic materials you will be needing.
MATERIALS
wood for floors
branches for supports
screws for joining floors
wood sealer
set of plans you make yourself
easel paper or recycled paper bags cut open
wooden pegs* (*optional if you want to make the house without metal screws. We will discuss this in Part 3.)
Wood for floors: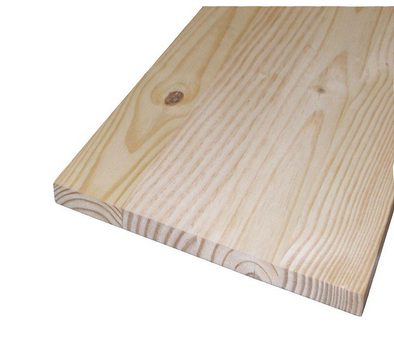 We used edge-glued panels for the flooring. You can read more about it HERE. We like it for gnome homes because it is solid wood, much like a butcher block counter. You can use plywood, but if you do, after you cut out the pieces you will need to fill the holes and sand to attain a smooth edge that is splinter free. This wood costs a little more but in our opinion, well worth it.
Branches for supports: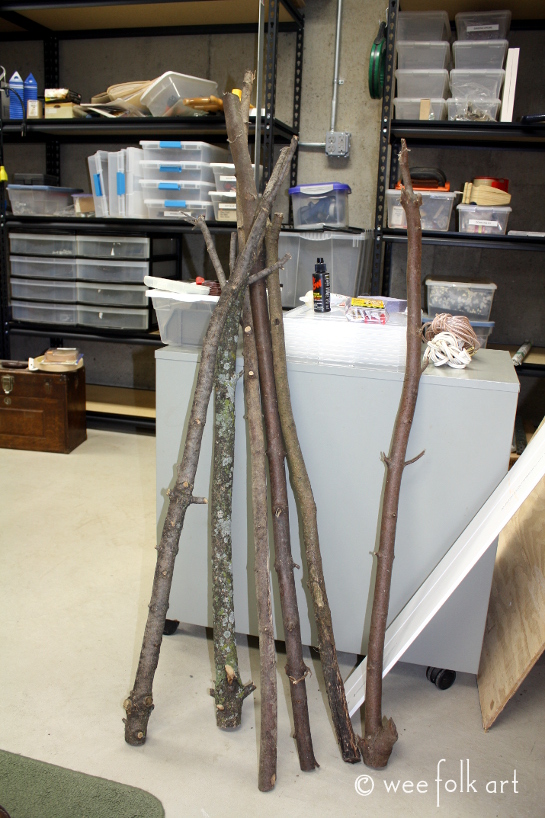 If you have access to actual tree branches I highly recommend using them because it will give your gnome home the most natural look. Look for relatively straight branches that have 1 1/2 inch to 2 inch diameters. For the best look they should be as long as the completed height of your gnome home. Using continuous lengths of branches makes it look like the gnome home is built in a real tree! Later we will be talking about actually designing your gnome home but for now you will need to have 3 or 4 branches depending on your final design. I suggest collecting a few more branches so you have creative options. It is okay, even desirable, to have some side branches or knots. This will add interest to the house.
You can either leave the bark on your branches or take it off. We used wild cherry branches on the first gnome home we made. While working with the branches, the bark started peeling off. I decided to take all the bark off. Using my pocket knife I stripped the bark off the branches. I loved the final look. I used maple when making the next two houses. The bark stayed firmly attached to the branches so I left the bark on. It is all a matter of choice.
If you cannot locate branches, not to worry. You can also use 1 1/2 inch to 2 inch diameter dowel rods. Although it has a more finished look, I've seen lovely gnome homes made with dowels.
Screws for joining floors: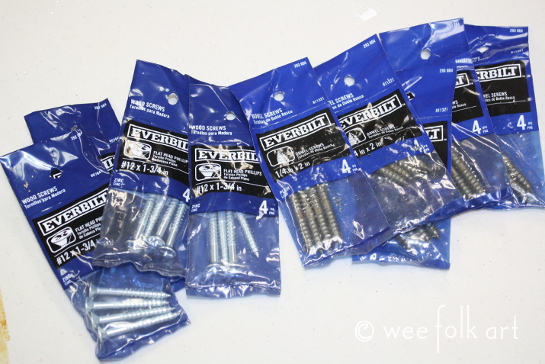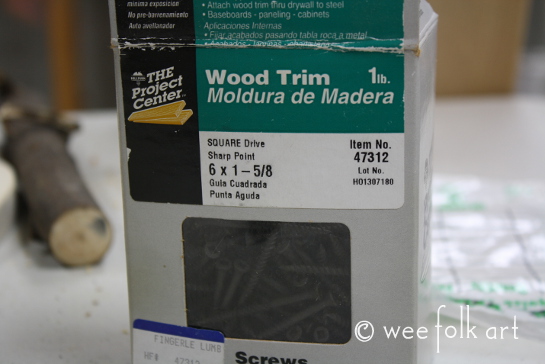 Basically, when screwing your gnome home together you want screws that are long enough to go through the thickness of the floors and long enough to get a good grip into your branches. We will talk more about the screws in Part 3. These are the screws we used. For the bottom screws we used #12 1 3/4 inch flat head screws. For in between floors we used dowel screws 1/4 inch by 2 inches. These screws have the "screw" sections on both ends. Finally, for the top, we used wood trim screws. These screws actually bury themselves into the wood so they can barely be seen. Again, we will talk about screws more in the section about assembling your gnome home. These are not the only screws that can be used, it is just what we had on hand. (Tim has a wonderful selection of building materials!)
DRAWING UP PLANS:
For some people the most challenging part of building a gnome home will be actually designing the house. We are not including a "pattern" because all of our gnome homes have been different, and we tend to design on the fly. Instead, let's talk about some basics for you to build on.
It helps to think about the gnome home pieces as if they were blocks. If you were given a set of precut platforms and branches and were told to make a tall tower, how would you start? Obviously, you would want your base to be level and you would want enough branches on each level to support the additional platforms. If your platforms get smaller as you go up, you need less branches to support that level. That's all you need to keep in mind when you design your house.
In general:
Plan to use 3 or 4 branches for each home.
When creating the shapes of each platform, position the branches at least 1 inch from the sides.
When stacking the platforms, each platform should rest on enough branches below it to keep the new level stable. The location of the branches should be marked on each level and if you were to "stack" the patterns on top of one another, the location of the branches should all line up.
Each platform should be approximately the size of the floor below it or smaller. For stability never make higher platforms larger than those below it.
For a regular gnome home, plan on leaving 9 inches between each floor. (We left 14″ between levels when making a fairy home for a larger doll.)
Before cutting your branches look at the structure of each branch. If there are interesting knots or side branches, decide where you want to cut the branches for best positioning.
Here are a couple examples of gnome homes. You can begin by drawing designs on an 8 1/2 by 11 inch piece of paper. Later, when you are happy with the design, you can enlarge the designs to the finished size you want. You can read about how to enlarge designs HERE. If you are feeling adventurous, you can freehand draw designs to the finished size you want. Just remember that each platform must fit over the branches below.
3 LEVELS WITH 3 BRANCHES
The size of the base (the blue platform) is 14 inches by 18 inches.  There are 3 branches on level 1. (the 3 brown circles) The second level (the pink platform) rests on these 3 branches.  The third level (the green platform) only rests on 2 branches. There are 9 inches between each level.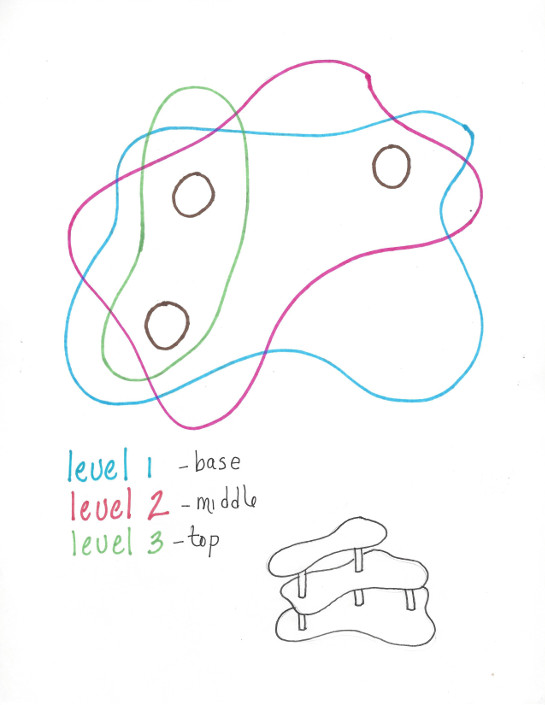 4 LEVELS WITH 4 BRANCHES
The size of this base (the light blue platform) is 19 inches by 22 inches. There are 4 branches on level 1. (the 4 dark blue circles) The second level (the pink platform) sits on 4 branches. The third level (the green platform) sits on 3 branches. Finally, the fourth level (the orange platform) sits on 2 branches. There are 9 inches between each level.
At this point you may want to look at the branches you collected. In Part 2 we will be cutting out our branches, but you should pick out the branches you want to use. Make sure to consider placement of knots and side branches.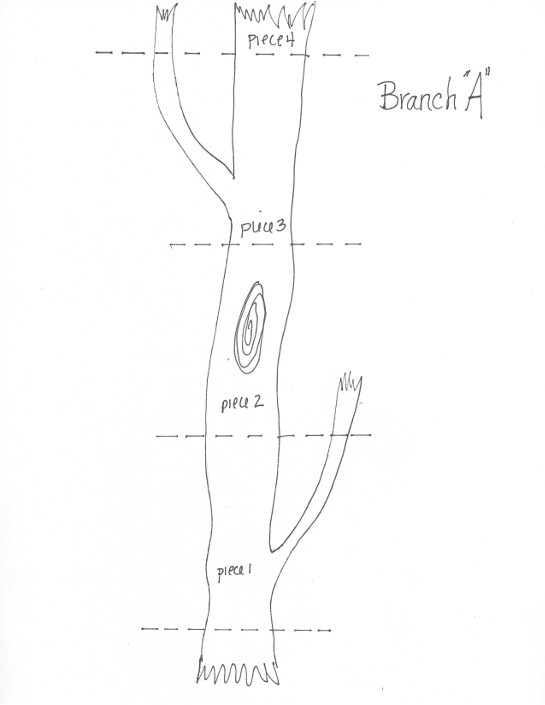 So, now it's time to collect all your supplies and design your gnome home. Make full sized patterns for each of the levels. On each pattern piece mark where the branches will be attached. In Part 2 we will transfer your pattern to the wood, and cut out your platforms and supporting branches.