In Michigan, kids do not go back to school until after Labor Day so we still have a full month of vacation left, although as homeschoolers we do start up a bit earlier so that we have extra time off at the holidays. For now though, we still have a few relaxed weeks ahead. This is a good thing since I've just barely gotten caught up on all the organizing projects that I don't have time for during the school year. All the closets have been cleaned out, I've finally gone through all of our paper stacks from last year, and I have now switched out all the books on the kids' shelves in preparation for the new year. I've also spent a few afternoons cleaning out the craft room. Now as we are getting ready for our new classes and restocking our school supplies, I thought it would be fun to share some projects to help keep all the kids' new school supplies organized. First up are several fun ways to store all your fresh new crayons and pencils.
---
This basket using recycled materials, organizes all your craft supplies and is always packed and ready to use at the table or to take along on a nature study.
---
Follow the link on Ann Kelle's site to sew this easy pencil case. They recommend using a slick, coated fabric for the inside of your pencil case and fun cotton prints for the outside. 

---
This fast knitting project would be a fun way to use up scrapes of yarn. Knit up some simple pencil sleeves.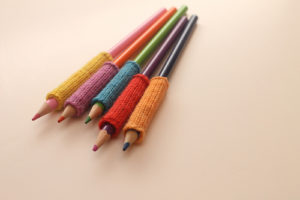 ---
These boxy pencil cases will hold more than just pencils. Tuck all your school supplies away in style. In this post Amber also shares tips for cutting fabric with a Cricut.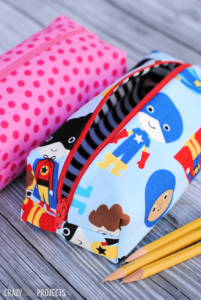 ---
This wood block pencil and crayon holder would make a lovely center piece on the table while keeping the coloring supplies on hand.
---
You will need a free account to download this free knitting pattern from Let's Knit.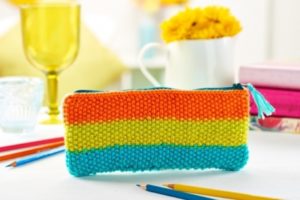 ---
Sew this super simple pencil case and journal cover with a bit of felt. You can dress it up with one of the Wee Folk Art applique patterns.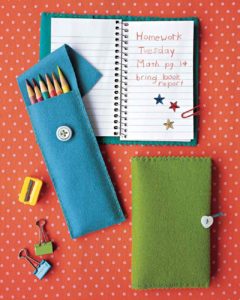 ---
Use decorator weight fabrics to make these sturdy, round pencil cases.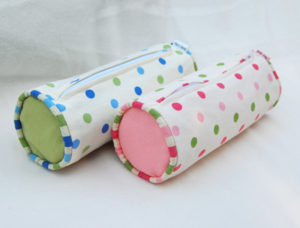 ---
You can find the directions to this simple felt crayon roll and a more elaborate woven fabric crayon roll at Skip to My Lou.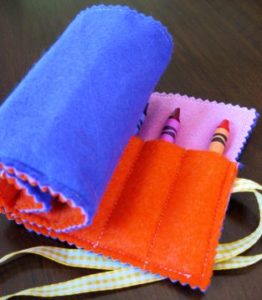 ---
Sewing not your thing? No problem. At Small & Friendly you can get the directions for this No-Sew Colored Pencil Roll and a No-Sew Crayon Wrap.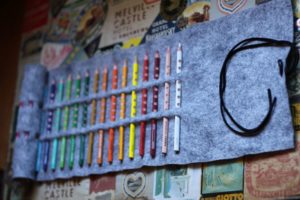 ---
Organize your pencils by color using these color coded crocheted granny covered pots.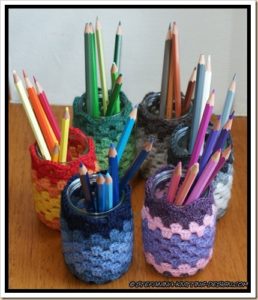 ---
Search your yard for the perfect log to convert into this rustic pencil holder. What a lovely way to recycle a found object and bring a nature indoors.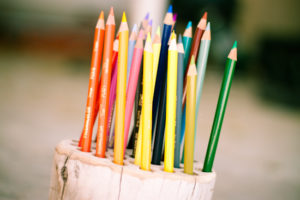 ---
Knit this colorful pencil roll using a rainbow of cotton yarns.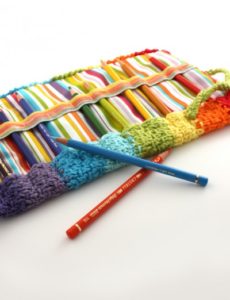 ---
This adorable creature makes a delightful pencil or crayon caddie. You will need a free Ravelry account to download the knitting pattern.