Ready for a little fall fun with a collection of DIY Pumpkin Crafts? Unlike real pumpkins, this group made from wood, metal, felt, glass, paper, fabric and corks will last the whole season!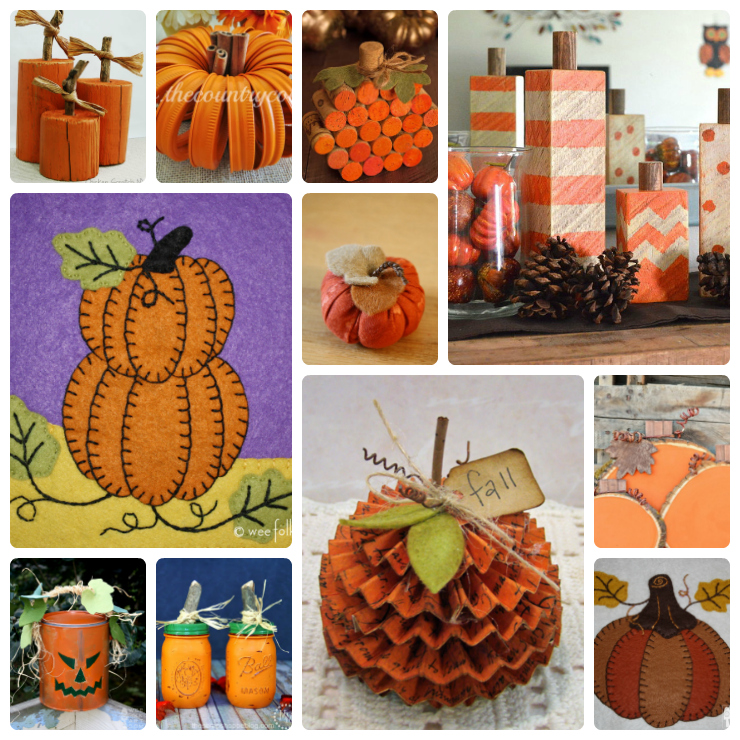 Pumpkins are such an iconic symbol of fall. When we think of autumn we see fields strewn with these orange lovelies. Of course, we also think of the yummy food made with pumpkins like pies and even the toasted seeds. The only problem with pumpkins, if used for decoration, is they don't always last the season, especially if you live in an area of the world that has warm or hot autumns. Plus, I've discovered from experience that both mice and deer think they make a reasonable treat, too! So today, we've put together a collection of DIY Pumpkin Crafts for Fall Decorating. They are all relatively simple to make and will add that splash of autumn color to your home.
These pumpkins are made from a wide array of materials from paint buckets to mason jars. And, if you don't see something here that tickles your fancy, perhaps they will inspire you to get creative and come up with other alternative pumpkin crafts! Perfect time to think outside the box! Perfect fall crafting for the whole family. Enjoy!
DIY Pumpkin Crafts for Fall Decorating!
---

Photo from Chicken Scratch NY
---

Photo from My Gourmet Connection
---

Photo from Wee Folk Art
---

Photo from Wee Folk Art
---

Photo from Handimania
---

Photo from The Weekly Scrapper
---

Photo from Hometalk
---

Photo from The Country Cook
---

Photo from Wee Folk Art
---

Photo from Wee Folk Art
---

Photo from The Scrap Shoppe Blog
---