This week we turned our Needle Felted Leaves into a Felt Leaves Mobile. Follow our felt leaves mobile tutorial to make your own nature inspired mobile.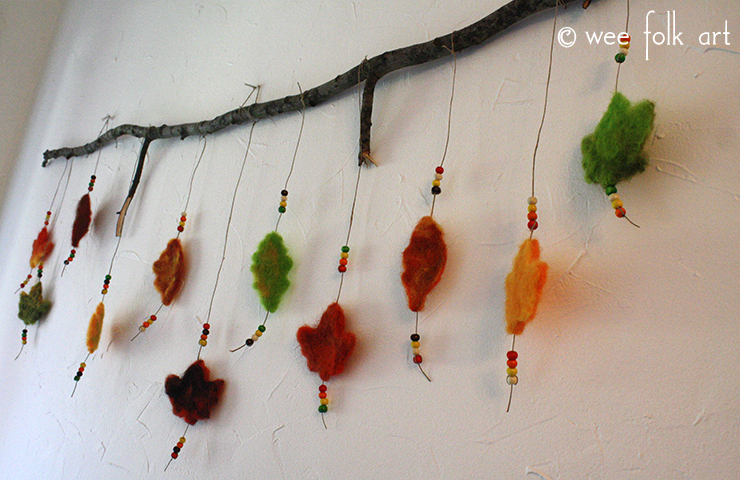 Felt Leaves Mobile Materials:
First you will need to make some Wool Roving Needle Felted Leaves.
Thin twine
Scissors
Metal Yarn Needle
A long stick from the yard (whatever length will work on your wall space)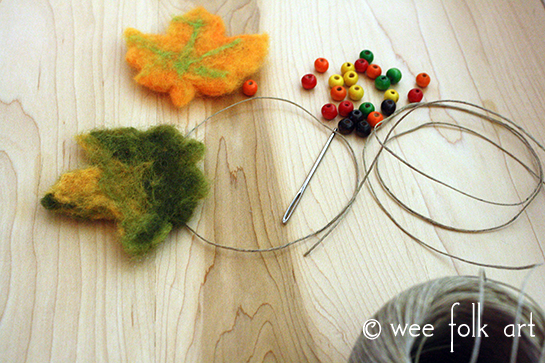 Felt Leaves Mobile Directions:
For each leaf, choose 4 colors of beads that match. You will need two of each bead color.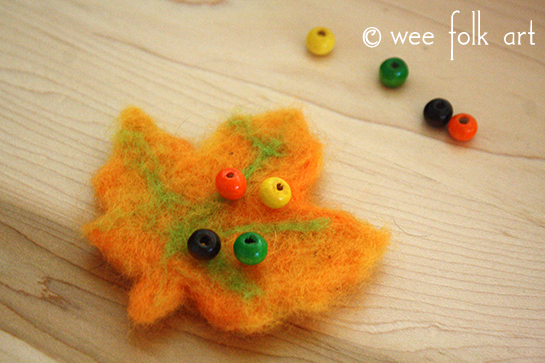 Use the metal yarn needle to clean out the holes of the beads.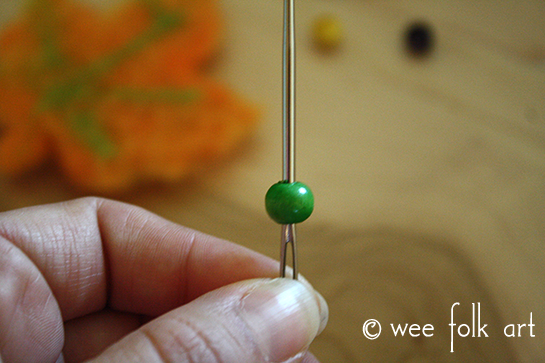 Decide on the order you would like to arrange your beads. You will have 4 beads hanging above and below each felt leaf.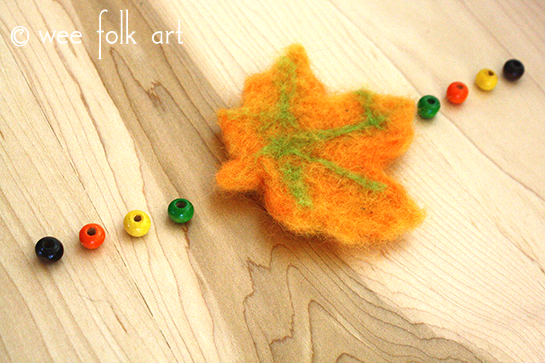 Cut a piece of twine about 18″ long.
Thread the bottom bead onto the end of the twine. Leave about a 2″ tail.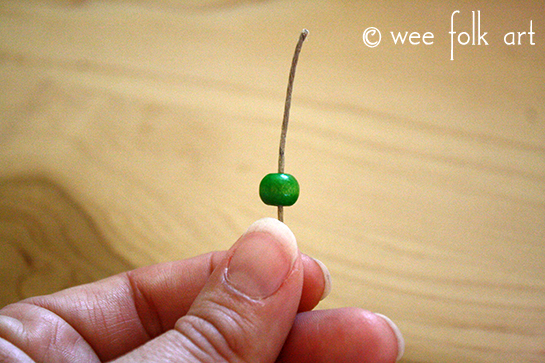 Thread the twine back through the bead hole two more times to lock the bead in place.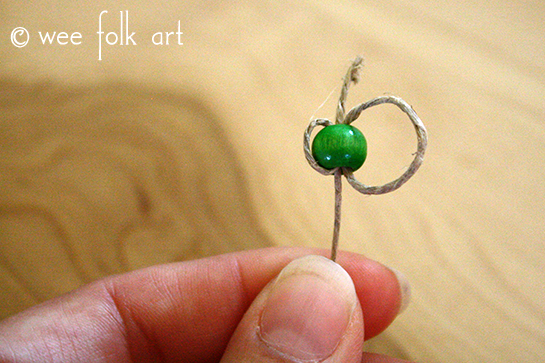 Thread 3 more beads onto the twine from the long side.
Use the metal yarn needle to thread the twine through the middle of the felted leaf. Our needle felted leaves were thick enough that I was able to carefully push the needle up through the center of the leaf. If your needle felted leaf is not as thick, or if you are using a cut felt leaf, you will need to use a loose running stitch to attach your leaf instead. Carefully slide the leaf down the piece of twine so that it hovers about 1/2″ above the beads.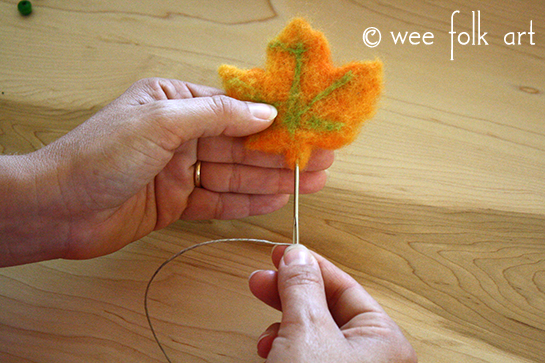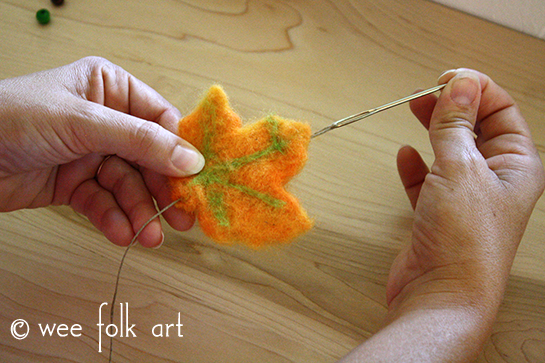 Slide the first of the top beads onto the twine. Secure it in place about 1/2″ above the leaf following the same method as for the bottom bead.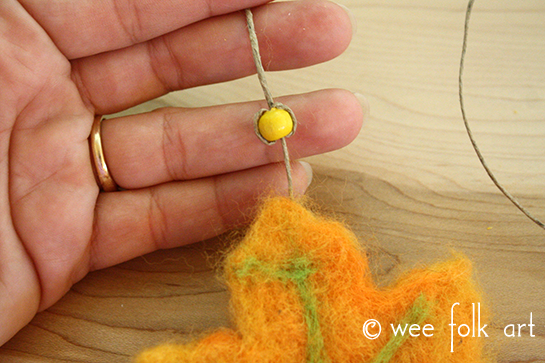 Add the additional beads.
Your first leaf hanging is ready. Make several more.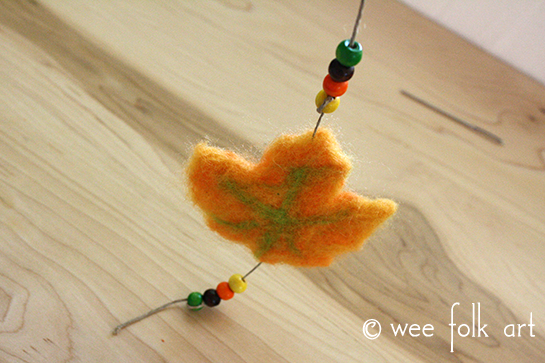 Break or cut your stick to the length you would like. Trim back any additional branches. Tie your leaves to the stick at varying lengths about 6-8″ apart using a double knot.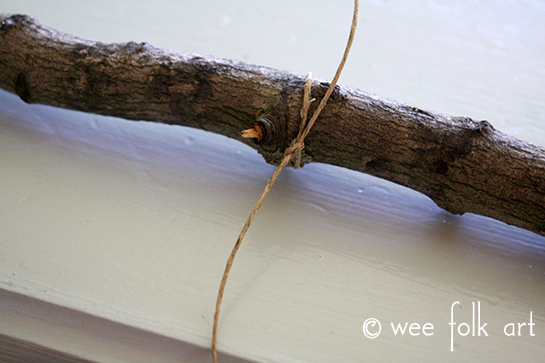 To hang your mobile on the wall, add a few twine loops to the stick.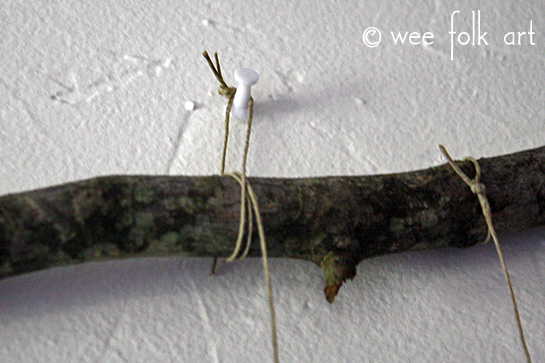 Trim the edges of the twine.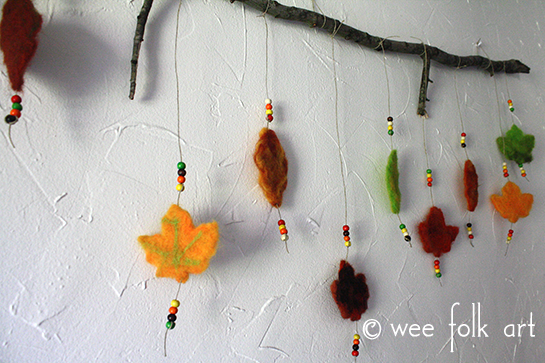 Completed Needle Felted Leaves Mobile:
The Felt Leaves Mobile makes a great autumn wall hanging in my foyer. It is very whimsical and brings a bit of nature indoors.