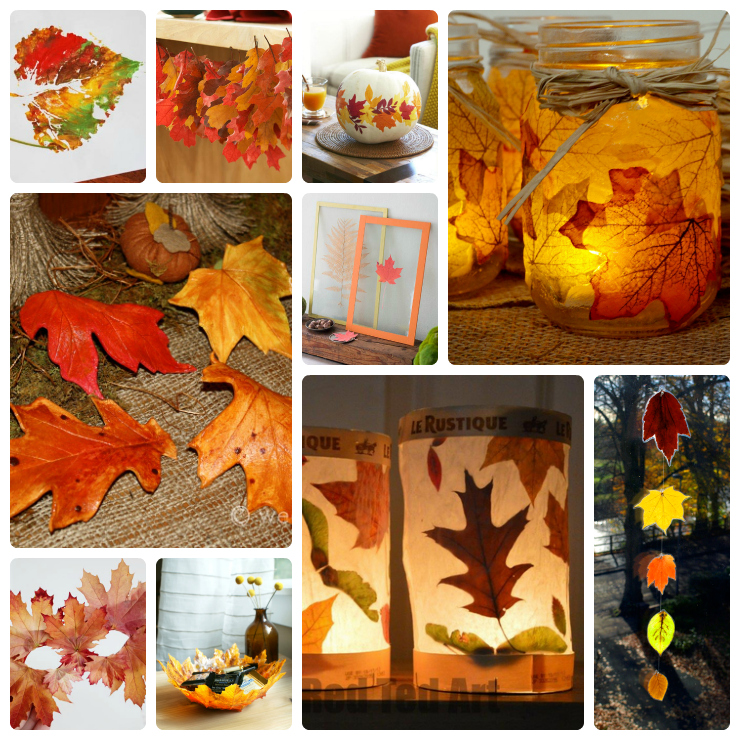 What is it about autumn that makes it so many people's favorite season? Is it the break from oppressive summer heat? Perhaps. If you have children, is it the return to school and "normal" routines. Could be. Don't even get me started on the foods and spices! There are any number of reasons it could be your favorite season, but let's face, if for only for a few short weeks, the world is shrouded in glorious colors… rich, warm, inviting colors that whisper of hearth and home, kith and kin. Although there are many beautiful autumn flowers, like the asters and chrysanthemums, it is the leaves and their spectacular display of color that makes us catch our breath and warms our hearts.
Today we are sharing a collection of some of our favorite leaf projects from around the net that will help you bring the beauty of the season indoors and help you to prolong the richness of color throughout the season.
---
If you live in an area that is treeless or it's hard to find a variety of beautifully colored leaves, not to worry! Create your own leaves from paperclay and you can paint them with colors to mirror autumn's splendor. Visit Wee Folk Art for the complete tutorial.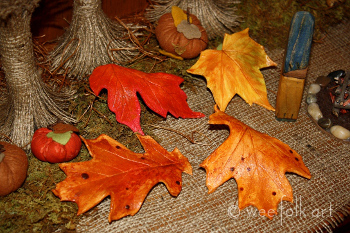 ---
With the help of Mod Podge and a balloon, you can turn silk maple leaves into a beautiful seasonal bowl. It sounds like it is a little tricky, so while visiting Hello Lucky for the tutorial, make sure to read through some of the comments for tips from people that have made this bowl.
---
A few leaves, a little paint in autumn colors, and you have the makings of a wonderful work of art. Visit Nashville Parent for the easy peasy directions. Perfect autumn craft for your wee ones.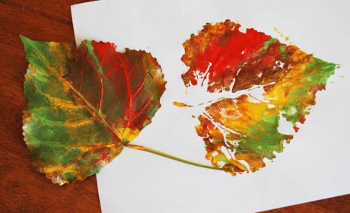 ---
There is something so warm and cozy about autumn days. It's as if the whole world is aglow. To add to the mood turn everyday mason jars into magical candle holders with a little Mod Podge and real or silk maple leaves. Visit Spark & Chemistry for the complete instructions.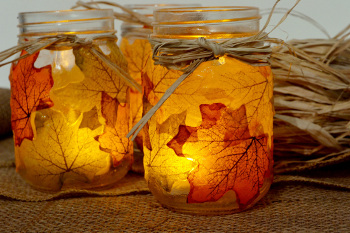 ---
Here is a unique way to preserve your autumn leaves. Press your leaves between a glass frame and you can display them all season long. Visit Parents for this craft and other autumn projects. They don't give any directions concerning the type of frames they used. Ideas anyone?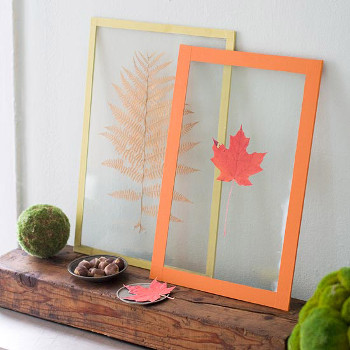 ---
It just doesn't get much easier than this. Gather autumn leaves (you can also use oak silk leaves if you don't have a ready supply of colorful leaves) use a needle to onto string, and tack them up. To see the complete directions and many other fall projects visit Better Homes and Gardens.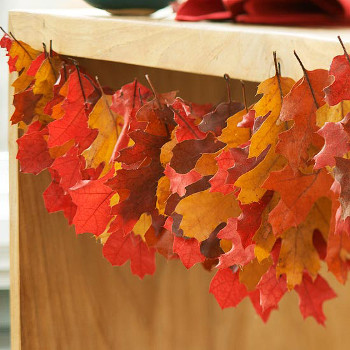 ---
Turn a wee one or an adult into a Leaf Man or Leaf Lady as the case may be using natural maple leaves. If you don't have a supply of colorful leaves or if you want your mask to last longer, you can use silk maple leaves. Visit Small + Friendly for complete instructions.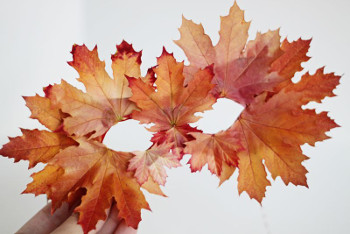 ---
One of the best blogs for children's crafts, visit Red Ted Art for the complete directions on how to make these stunning Leaf Lanterns. I love the seed pods that incorporated into the lantern.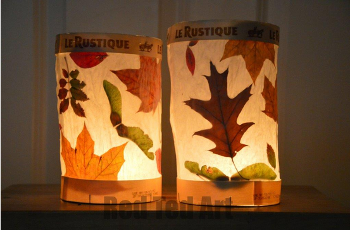 ---
There are certainly many varieties of pumpkins to choose from today. White pumpkins provide a beautiful contrast to autumn leaves. If you don't have an abundance of beautiful fall leaves, simply trace gathered leaves onto fall colored tissue paper, cut out and you are off! For the complete instructions for this striking pumpkin, visit Good Housekeeping.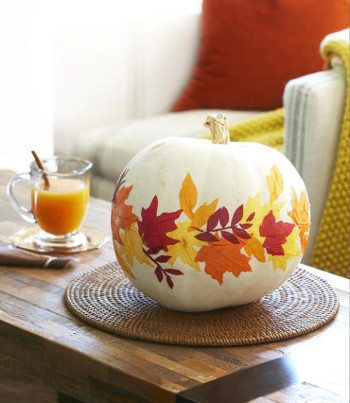 ---
Here is a wonderful way to preserve fall color so it lasts until the snow begins to fall. Although these leaves were laminated, (BTW… a laminator is a wonderful little devise to have for many crafting projects and quite reasonably priced) if you don't have a laminator you can encase the leaves in clear contact paper with a similar outcome. Visit Artful Kids for this tutorial and lots of other photos for preserving autumn colors.

---