Fall. That time of year when the world changes from greens and pastels to rich, earthy tones of gold, orange, red, and brown. Today on Wee Folk Art we are sharing a DIY for creating a beautiful Wooden Acorn Garland that will help you bring those gorgeous colors indoors!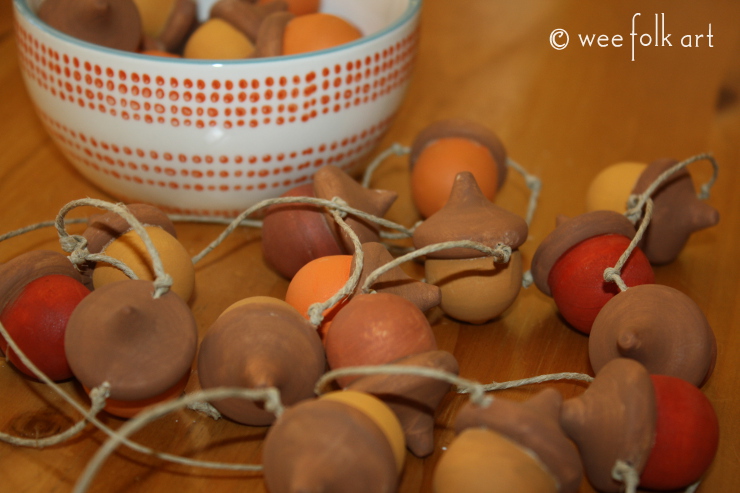 Sometimes projects are big and complication and can take days, weeks or months to finish. Sometimes, they are simple and require nothing more than a couple of hours while listening to your favorite tunes. Today's project, this Wooden Acorn Garland, is one of the fast projects but with grand results! Once you get started, you'll find you are draping Wooden Acorn Garlands everywhere!
Materials and Supplies for Wooden Acorn Garland
wooden acorns 1 3/8″ tall (I got mine from Casey's Wood Products) NOTE: You can use real acorns for this project, but for a long lasting project that doesn't attract mice, I prefer the wooden ones 🙂
thin twine
paint (soy, acrylic or water colors)
paint brushes
drill
hot glue gun (optional)
Directions for Wooden Acorn Garland
Gather supplies together. I use wooden acorns for many projects so I always have lots on hand!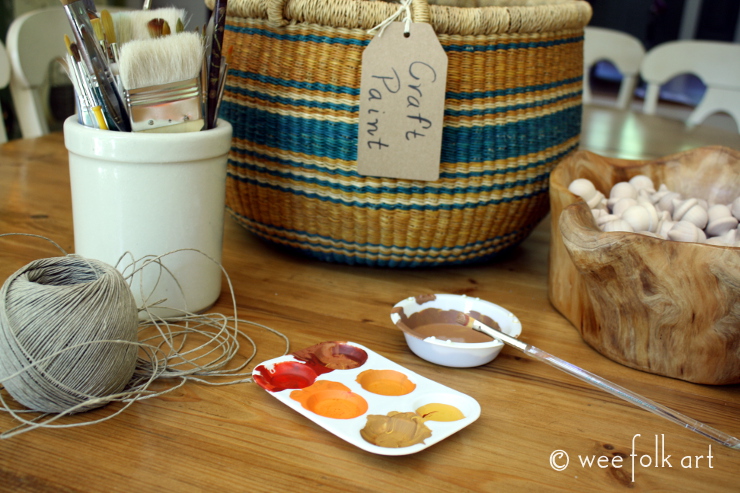 Paint wooden acorns. I always start by mixing together colors until I get the right blend. As I am using this for fall decorating, I took certain artistic liberties in making my color choices!
Drill holes into the painted wooden acorns large enough for you twine to slide through easily.
Optional: If you do not have the means to drill holes in the wooden acorns, you can hot glue them to the twine. It's a little tricky but after a while I got the hang of it. I added a glob of the hot glue to the top of the cap and glued it to the twine. I glued them 2″ apart. I did have to re-glue a couple of them when I went to hang them, so, if possible, I highly recommend drilling!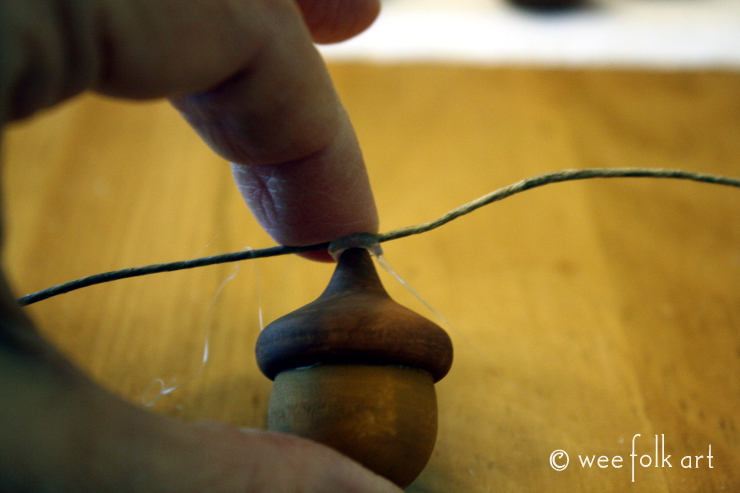 To string your wooden acorn garland, begin by cutting a piece of twine to fit the space. Leave and extra 10″ at either  side of the garland for tying your garland in place. Make sure to leave the twine long enough so the garland can swag. You will be adding acorns every 2″. Slide the first acorn on the twine. Make sure to leave a 10″ tail.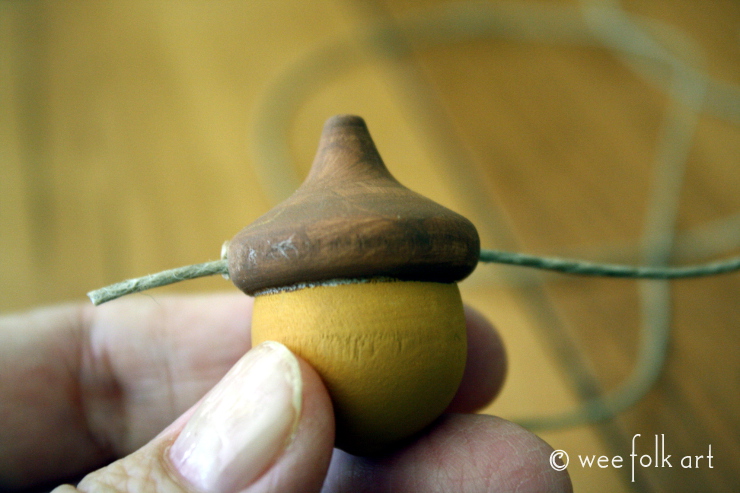 Tie a knot on either side of the acorn close to the cap.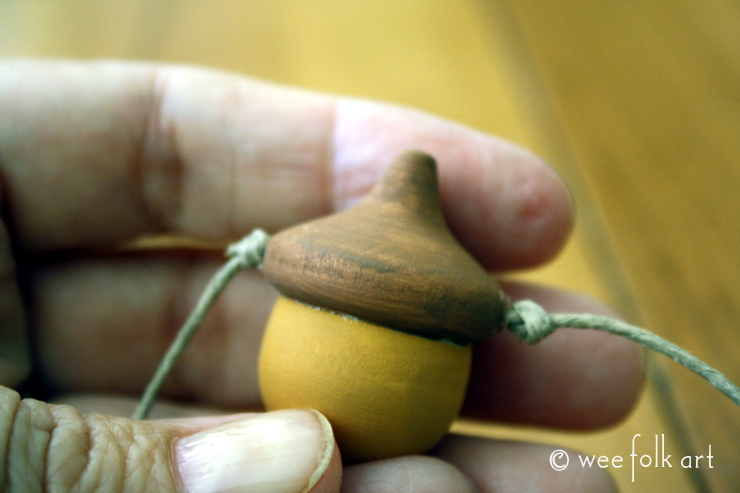 Measure 2″ from the last knot and slide the next acorn on.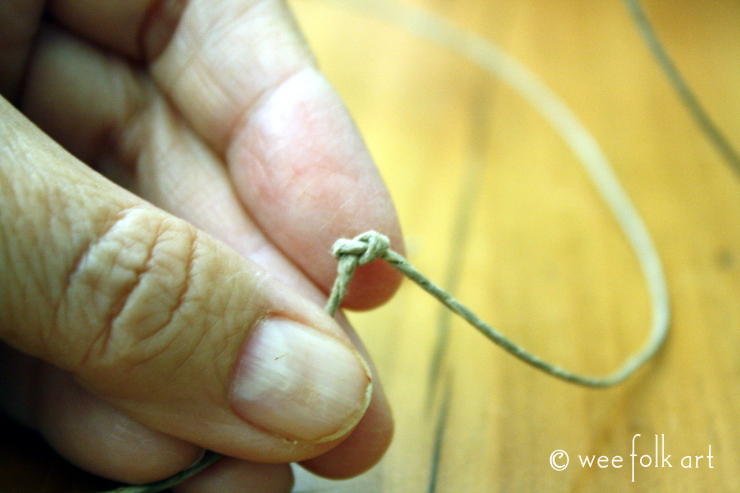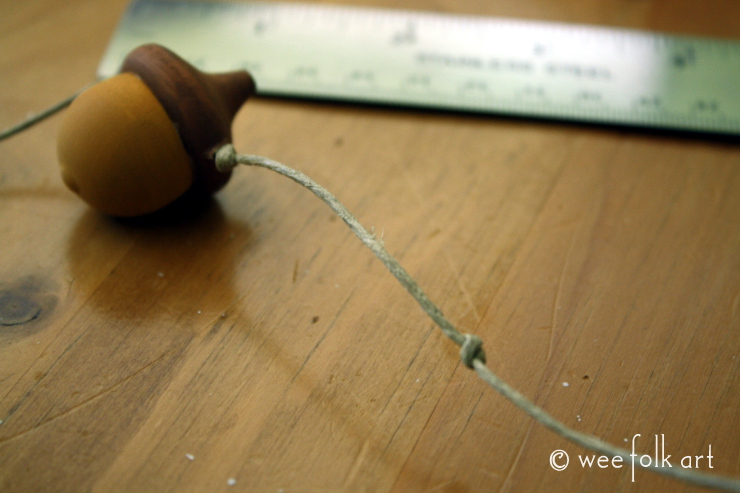 Continue adding acorns in this manner until you achieve the desired length.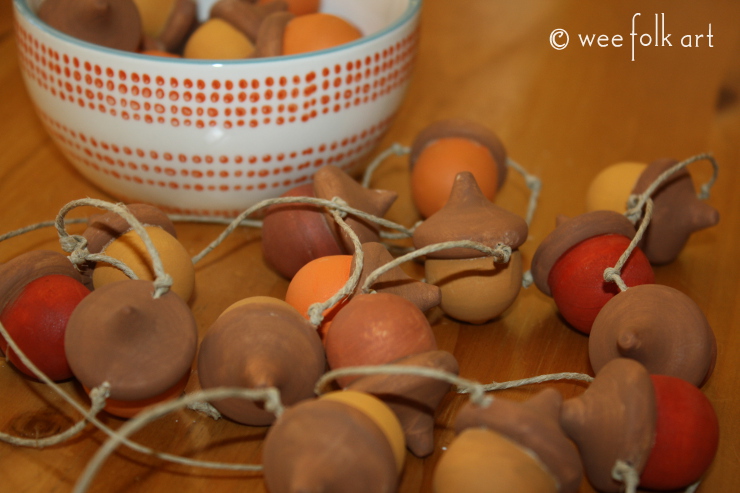 Hang your garland. I was able to tape mine to my cupboard. You can let it hang loose…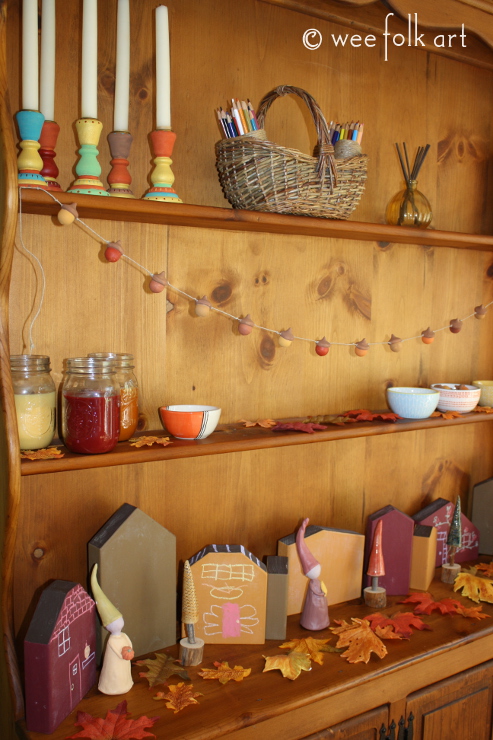 Or you can choose to swag it in the middle.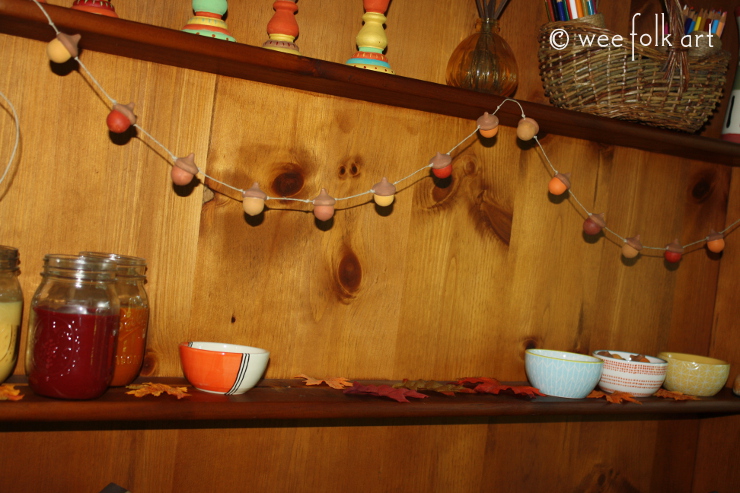 The finished results are lovely and perfect for autumn decorating!