Print & Digital Version: $17 | Digital Only $8 |BUY NOW!
Description
Formats
Blog Entries
Reviews
Edits
Books & Supplies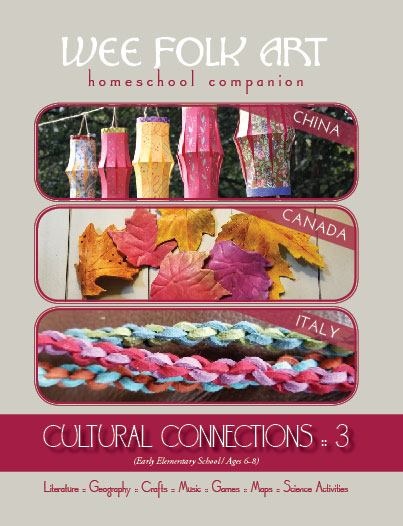 Cultural Connections is a series of 12 week long, literature based, hands-on curriculum guides that have been designed to be used with 6-8 year old children. These guides have been created to help introduce young students to the cultures and people from around the world. We will focus on the elements of life that we all have in common such as family, food, festivals, crafts, music, and games.
Unit Three will include activities for China, Canada, and Italy. Make paper lanterns, learn to play Crokinole, and enjoy homemade biscotti.
Both Formats
40 Pages long: includes a full supply list, journal pages, activity/craft directions, recipes, and planner
Digital Format is FREE with Print Purchase
Purchase from MagCloud
$17 Print Format
Print style: Glossy Magazine 8.25″ x 10.75″
Binding: Saddle-stitched which opens flat for easier copying
Note: This unit is slightly longer than the previous units, resulting in a slightly higher printing cost.
$8 Digital Format
iPhone & iPad
PDF
WebViewer
MagCloud Info
MagCloud is a 3rd party, print on demand publisher. All questions about your order should be directed to them. We cannot access your account or order information. Digital orders are available immediately and can be found in your MagCloud library. Print orders can take two-three weeks for delivery because they are not in-stock but printed after an order has been placed.
Cultural Connections Reviews
Coming Soon
These edits have been made in your digital copy, but if you ordered a print version before the date listed below you should take note of these changes.
Print & Digital Version: $17 | Digital Only $8 |BUY NOW!
Please note: All of the book lists and craft/activity directions are available here on the website. The weekly schedule, coloring pages, maps, and complete supply list are only available when you purchase the unit.